Our purpose
The Brown Visual Computing group develops technology to make and make sense of visual data. We leverage both principled physical models and data-driven methods to synthesize, edit, and explain visual data.
Our motivation
We strive to make visual computing tools be as simple and as accessible as possible to as many people as possible, for providing creative expression and an explainable understanding of visual data.
Our ethos
We are vigilant to the implications of our research, considering the safe and ethical use of visual synthesis and analysis technologies for social expression, economic advancement, and public good.
In our research, we view visual computing as a closed loop: analysis methods (i.e. computer vision) extract rich scene models from visual data (e.g. images, 3D shapes), and synthesis methods (i.e. computer graphics) convert those models back into observable visual data. The two sides of this loop are mutually reinforcing: analysis of large-scale visual data helps to build/learn better synthesis methods (e.g. generative adversarial networks), and the outputs of those synthesis models help to build/learn better analysis methods (e.g. synthetic training data for computer vision systems).
Finally, visual computing systems are designed to be used by people: through visualization of data, interaction with / manipulation of visual scene models, etc. We design visual computing systems that maximize their users' ability to realize their creative visions, to understand complex datasets and phenomena, and to make informed predictions about future events.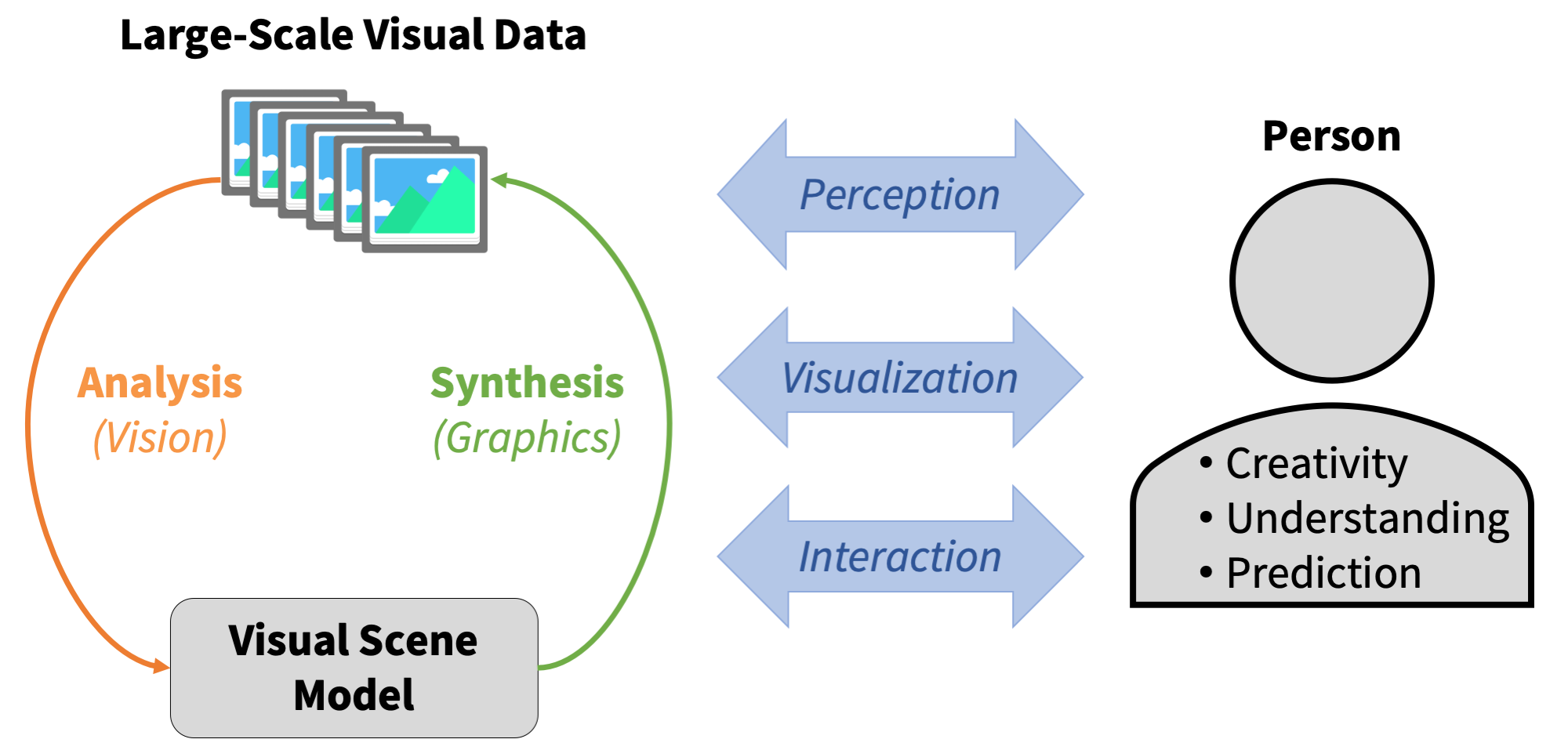 2018
Unsupervised attention-guided image to image translation
Youssef A Mejjati, Christian Richardt, James Tompkin, Darren Cosker, Kwang In Kim
arXiv preprint arXiv:1806.02311
2011
Video-based characters: creating new human performances from a multi-view video database
Feng Xu, Yebin Liu, Carsten Stoll, James Tompkin, Gaurav Bharaj, Qionghai Dai, Hans-Peter Seidel, Jan Kautz, Christian Theobalt
ACM Transactions on Graphics (TOG)
2012
Background inpainting for videos with dynamic objects and a free-moving camera
Miguel Granados, Kwang In Kim, James Tompkin, Jan Kautz, Christian Theobalt
European Conference on Computer Vision
2015
Blind video temporal consistency
Nicolas Bonneel, James Tompkin, Kalyan Sunkavalli, Deqing Sun, Sylvain Paris, Hanspeter Pfister
ACM Transactions on Graphics (TOG)
2014
Interactive intrinsic video editing
Nicolas Bonneel, Kalyan Sunkavalli, James Tompkin, Deqing Sun, Sylvain Paris, Hanspeter Pfister
ACM Transactions on Graphics (TOG)
2012
How not to be seen—object removal from videos of crowded scenes
Miguel Granados, James Tompkin, Kwang Kim, Oliver Grau, Jan Kautz, Christian Theobalt
Computer Graphics Forum
2015
Efficient learning of image super-resolution and compression artifact removal with semi-local Gaussian processes
Younghee Kwon, Kwang In Kim, James Tompkin, Jin Hyung Kim, Christian Theobalt
IEEE transactions on pattern analysis and machine intelligence
2020
Communicating robot arm motion intent through mixed reality head-mounted displays
Eric Rosen, David Whitney, Elizabeth Phillips, Gary Chien, James Tompkin, George Konidaris, Stefanie Tellex
2013
Automatic noise modeling for ghost-free hdr reconstruction
Miguel Granados, Kwang In Kim, James Tompkin, Christian Theobalt
ACM Transactions on Graphics (TOG)
2012
Videoscapes: exploring sparse, unstructured video collections
James Tompkin, Kwang In Kim, Jan Kautz, Christian Theobalt
ACM Transactions on Graphics (TOG)
2011
Towards moment imagery: Automatic cinemagraphs
James Tompkin, Fabrizio Pece, Kartic Subr, Jan Kautz
2011 Conference for Visual Media Production
2017
Piggybacking robots: Human-robot overtrust in university dormitory security
Serena Booth, James Tompkin, Hanspeter Pfister, Jim Waldo, Krzysztof Gajos, Radhika Nagpal
2015
Computational design of metallophone contact sounds
Gaurav Bharaj, David IW Levin, James Tompkin, Yun Fei, Hanspeter Pfister, Wojciech Matusik, Changxi Zheng
ACM Transactions on Graphics (TOG)
2014
Interactive motion mapping for real‐time character control
Helge Rhodin, James Tompkin, Kwang In Kim, Kiran Varanasi, Hans‐Peter Seidel, Christian Theobalt
Computer Graphics Forum
2018
Improving shape deformation in unsupervised image-to-image translation
Aaron Gokaslan, Vivek Ramanujan, Daniel Ritchie, Kwang In Kim, James Tompkin
Proceedings of the European Conference on Computer Vision (ECCV)
2010
A novel brain-computer interface using a multi-touch surface
Beste F Yuksel, Michael Donnerer, James Tompkin, Anthony Steed
2016
booc.io: An education system with hierarchical concept maps and dynamic non-linear learning plans
Michail Schwab, Hendrik Strobelt, James Tompkin, Colin Fredericks, Connor Huff, Dana Higgins, Anton Strezhnev, Mayya Komisarchik, Gary King, Hanspeter Pfister
IEEE transactions on visualization and computer graphics
2013
Content-adaptive lenticular prints
James Tompkin, Simon Heinzle, Jan Kautz, Wojciech Matusik
ACM Transactions on Graphics (TOG)
2018
Evaluating 'graphical perception' with CNNs
Daniel Haehn, James Tompkin, Hanspeter Pfister
IEEE transactions on visualization and computer graphics
2015
Computational design of walking automata
Gaurav Bharaj, Stelian Coros, Bernhard Thomaszewski, James Tompkin, Bernd Bickel, Hanspeter Pfister
2019
Communicating and controlling robot arm motion intent through mixed-reality head-mounted displays
Eric Rosen, David Whitney, Elizabeth Phillips, Gary Chien, James Tompkin, George Konidaris, Stefanie Tellex
The International Journal of Robotics Research
2015
Generalizing wave gestures from sparse examples for real-time character control
Helge Rhodin, James Tompkin, Kwang In Kim, Edilson De Aguiar, Hanspeter Pfister, Hans-Peter Seidel, Christian Theobalt
ACM Transactions on Graphics (TOG)
2009
DIY design process for interactive surfaces
Jennifer G Sheridan, James Tompkin, Abel Maciel, George Roussos
People and Computers XXIII Celebrating People and Technology
2017
Scalable interactive visualization for connectomics
Daniel Haehn, John Hoffer, Brian Matejek, Adi Suissa-Peleg, Ali K Al-Awami, Lee Kamentsky, Felix Gonda, Eagon Meng, William Zhang, Richard Schalek, Alyssa Wilson, Toufiq Parag, Johanna Beyer, Verena Kaynig, Thouis R Jones, James Tompkin, Markus Hadwiger, Jeff W Lichtman, Hanspeter Pfister
Informatics
2012
Match graph construction for large image databases
Kwang In Kim, James Tompkin, Martin Theobald, Jan Kautz, Christian Theobalt
European Conference on Computer Vision
2018
Guided proofreading of automatic segmentations for connectomics
Daniel Haehn, Verena Kaynig, James Tompkin, Jeff W Lichtman, Hanspeter Pfister
Proceedings of the IEEE Conference on Computer Vision and Pattern Recognition
2015
Context-guided diffusion for label propagation on graphs
Kwang In Kim, James Tompkin, Hanspeter Pfister, Christian Theobalt
Proceedings of the IEEE International Conference on Computer Vision
2013
Video collections in panoramic contexts
James Tompkin, Fabrizio Pece, Rajvi Shah, Shahram Izadi, Jan Kautz, Christian Theobalt
2013
Curvature-aware regularization on Riemannian submanifolds
Kwang In Kim, James Tompkin, Christian Theobalt
Proceedings of the IEEE International Conference on Computer Vision
2020
Matryodshka: Real-time 6dof video view synthesis using multi-sphere images
Benjamin Attal, Selena Ling, Aaron Gokaslan, Christian Richardt, James Tompkin
European Conference on Computer Vision
2019
Portal-ble: Intuitive free-hand manipulation in unbounded smartphone-based augmented reality
Jing Qian, Jiaju Ma, Xiangyu Li, Benjamin Attal, Haoming Lai, James Tompkin, John F Hughes, Jeff Huang
2015
Semi-supervised learning with explicit relationship regularization
Kwang In Kim, James Tompkin, Hanspeter Pfister, Christian Theobalt
Proceedings of the IEEE Conference on Computer Vision and Pattern Recognition
2008
Optical flow an introduction
James Tompkin
University College London ((UCL) Computer Science Dept., machine Vision–Practical 2
2019
Evaluating pan and zoom timelines and sliders
Michail Schwab, Sicheng Hao, Olga Vitek, James Tompkin, Jeff Huang, Michelle A Borkin
2018
The eye of the typer: a benchmark and analysis of gaze behavior during typing
Alexandra Papoutsaki, Aaron Gokaslan, James Tompkin, Yuze He, Jeff Huang
2017
Consistent video filtering for camera arrays
Nicolas Bonneel, James Tompkin, Deqing Sun, Oliver Wang, Kalyan Sunkavalli, Sylvain Paris, Hanspeter Pfister
Computer Graphics Forum
2012
Interactive light field painting
James Tompkin, Samuel Muff, Stanislav Jakuschevskij, Jim McCann, Jan Kautz, Marc Alexa, Wojciech Matusik
2015
Joint 5d pen input for light field displays
James Tompkin, Samuel Muff, James McCann, Hanspeter Pfister, Jan Kautz, Marc Alexa, Wojciech Matusik
2015
User-centric computational videography
Christian Richardt, James Tompkin, Jiamin Bai, Christian Theobalt
2015
Methods and devices for exploring digital video collections
Christian Theobalt, Kwang In Kim, Jan Kautz, James Tompkin
2019
Omnimr: Omnidirectional mixed reality with spatially-varying environment reflections from moving 360 video cameras
Joanna Tarko, James Tompkin, Christian Richardt
2019 IEEE Conference on Virtual Reality and 3D User Interfaces (VR)
2015
Local high-order regularization on data manifolds
Kwang In Kim, James Tompkin, Hanspeter Pfister, Christian Theobalt
Proceedings of the IEEE Conference on Computer Vision and Pattern Recognition
2014
Device effect on panoramic video+ context tasks
Fabrizio Pece, James Tompkin, Hanspeter Pfister, Jan Kautz, Christian Theobalt
2013
Preference and artifact analysis for video transitions of places
James Tompkin, Min H Kim, Kwang In Kim, Jan Kautz, Christian Theobalt
ACM Transactions on Applied Perception (TAP)
2012
Interactive viewpoint video textures
Philippe Levieux, James Tompkin, Jan Kautz
2012
Interactive Multi‐perspective Imagery from Photos and Videos
Henrik Lieng, James Tompkin, Jan Kautz
Computer Graphics Forum
2017
Video for virtual reality
Christian Richardt, James Tompkin, Jordan Halsey, Aaron Hertzmann, Jonathan Starck, Oliver Wang
2016
Interactive multicut video segmentation
Evgeny Levinkov, James Tompkin, Nicolas Bonneel, Steffen Kirchhoff, Bjoern Andres, Hanspeter Pfister
Pacific Graphics
2020
Towards untrusted social video verification to combat deepfakes via face geometry consistency
Eleanor Tursman, Marilyn George, Seny Kamara, James Tompkin
Proceedings of the IEEE/CVF Conference on Computer Vision and Pattern Recognition Workshops
2020
Capture, reconstruction, and representation of the visual real world for virtual reality
Christian Richardt, James Tompkin, Gordon Wetzstein
2019
View-consistent 4D Light Field Superpixel Segmentation
Numair Khan, Qian Zhang, Lucas Kasser, Henry Stone, Min H Kim, James Tompkin
Proceedings of the IEEE/CVF International Conference on Computer Vision
2017
Predictor combination at test time
Kwang In Kim, James Tompkin, Christian Richardt
Proceedings of the IEEE International Conference on Computer Vision
2019
Real-time virtual object insertion for moving 360 videos
Joanna Tarko, James Tompkin, Christian Richardt
2017
Criteria Sliders: Learning Continuous Database Criteria via Interactive Ranking
James Tompkin, Kwang In Kim, Hanspeter Pfister, Christian Theobalt
Proceedings of the British Machine Vision Conference (BMVC)
2017
Hierarchical visual feature analysis for city street view datasets
Lezhi Li, James Tompkin, Panagiotis Michalatos, Hanspeter Pfister
Workshop on Visual Analytics for Deep Learning
2011
Novel P300 BCI interfaces to directly select physical and virtual objects
Beste F Yuksel, Michael Donnerer, James Tompkin, Anthony Steed
2020
Generating Handwriting via Decoupled Style Descriptors
Atsunobu Kotani, Stefanie Tellex, James Tompkin
European Conference on Computer Vision
2019
Easypz. js: Interaction binding for pan and zoom visualizations
Michail Schwab, James Tompkin, Jeff Huang, Michelle A Borkin
2019 IEEE Visualization Conference (VIS)
2020
VisConnect: Distributed Event Synchronization for Collaborative Visualization
Michail Schwab, David Saffo, Yixuan Zhang, Shash Sinha, Cristina Nita-Rotaru, James Tompkin, Cody Dunne, Michelle A Borkin
IEEE Transactions on Visualization and Computer Graphics
2021
Improving Remote Environment Visualization through 360 6DoF Multi-sensor Fusion for VR Telerobotics
Austin Sumigray, Eliot Laidlaw, James Tompkin, Stefanie Tellex
2021
Scalable Scalable Vector Graphics: Automatic Translation of Interactive SVGs to a Multithread VDOM for Fast Rendering
Michail Schwab, David Saffo, Nicholas Bond, Shash Sinha, Cody Dunne, Jeff Huang, James Tompkin, Michelle Borkin
IEEE Transactions on Visualization and Computer Graphics
2020
Shape from Tracing: Towards Reconstructing 3D Object Geometry and SVBRDF Material from Images via Differentiable Path Tracing
Purvi Goel, Loudon Cohen, James Guesman, Vikas Thamizharasan, James Tompkin, Daniel Ritchie
2020 International Conference on 3D Vision (3DV)
2020
Channel Embedding for Informative Protein Identification from Highly Multiplexed Images
Salma Abdel Magid, Won-Dong Jang, Denis Schapiro, Donglai Wei, James Tompkin, Peter K Sorger, Hanspeter Pfister
International Conference on Medical Image Computing and Computer-Assisted Intervention
2020
Generating Object Stamps
Youssef Alami Mejjati, Zejiang Shen, Michael Snower, Aaron Gokaslan, Oliver Wang, James Tompkin, Kwang In Kim
arXiv preprint arXiv:2001.02595
2018
High-order Tensor Regularization with Application to Attribute Ranking
Kwang In Kim, Juhyun Park, James Tompkin
Proceedings of the IEEE Conference on Computer Vision and Pattern Recognition
2011
Videoscapes: Exploring Unstructured Video Collections
James Tompkin, Kwang In Kim, Jan Kautz, Christian Theobalt
2008
Real-time collaborative participation feedback for F2F-CSCW
Abel Maciel, Artemis Skarlatidou, James Tompkin, Patrick Weber
Hypothesis
2006
A Networked Visual Instrument "Venues"
James Tompkin
MatryODShka: Real-time 6DoF Video View Synthesis using Multi-Sphere Images
James Tompkin
On the convergence of the estimate of the second fundamental form
Kwang In Kim, James Tompkin, Christian Theobalt
Brain-Computer Interface Using a Multi-Touch Surface
Beste F Yuksel, Michael Donnerer, James Tompkin, Anthony Steed
2012
Example-based synthesis of 3D object arrangements
Matthew Fisher, Daniel Ritchie, Manolis Savva, Thomas Funkhouser, Pat Hanrahan
ACM Transactions on Graphics (TOG)
2010
Dynamic local remeshing for elastoplastic simulation
Martin Wicke, Daniel Ritchie, Bryan M Klingner, Sebastian Burke, Jonathan R Shewchuk, James F O'Brien
ACM Transactions on graphics (TOG)
2009
Interactive simulation of surgical needle insertion and steering
Nuttapong Chentanez, Ron Alterovitz, Daniel Ritchie, Lita Cho, Kris K Hauser, Ken Goldberg, Jonathan R Shewchuk, James F O'Brien
2018
Scancomplete: Large-scale scene completion and semantic segmentation for 3d scans
Angela Dai, Daniel Ritchie, Martin Bokeloh, Scott Reed, Jürgen Sturm, Matthias Nießner
Proceedings of the IEEE Conference on Computer Vision and Pattern Recognition
2018
Deep convolutional priors for indoor scene synthesis
Kai Wang, Manolis Savva, Angel X Chang, Daniel Ritchie
ACM Transactions on Graphics (TOG)
2013
Probabilistic color-by-numbers: Suggesting pattern colorizations using factor graphs
Sharon Lin, Daniel Ritchie, Matthew Fisher, Pat Hanrahan
ACM Transactions on Graphics (TOG)
2015
Controlling procedural modeling programs with stochastically-ordered sequential monte carlo
Daniel Ritchie, Ben Mildenhall, Noah D Goodman, Pat Hanrahan
ACM Transactions on Graphics (TOG)
2016
Deep amortized inference for probabilistic programs
Daniel Ritchie, Paul Horsfall, Noah D Goodman
arXiv preprint arXiv:1610.05735
2019
Planit: Planning and instantiating indoor scenes with relation graph and spatial prior networks
Kai Wang, Yu-An Lin, Ben Weissmann, Manolis Savva, Angel X Chang, Daniel Ritchie
ACM Transactions on Graphics (TOG)
2019
Fast and flexible indoor scene synthesis via deep convolutional generative models
Daniel Ritchie, Kai Wang, Yu-an Lin
Proceedings of the IEEE/CVF Conference on Computer Vision and Pattern Recognition
2011
d. tour: Style-based exploration of design example galleries
Daniel Ritchie, Ankita Arvind Kejriwal, Scott R Klemmer
2016
C3: Lightweight incrementalized MCMC for probabilistic programs using continuations and callsite caching
Daniel Ritchie, Andreas Stuhlmüller, Noah Goodman
Artificial Intelligence and Statistics
2014
First-class runtime generation of high-performance types using exotypes
Zachary DeVito, Daniel Ritchie, Matt Fisher, Alex Aiken, Pat Hanrahan
2015
Generating design suggestions under tight constraints with gradient‐based probabilistic programming
Daniel Ritchie, Sharon Lin, Noah D Goodman, Pat Hanrahan
Computer Graphics Forum
2020
Learning generative models of 3D structures
Siddhartha Chaudhuri, Daniel Ritchie, Jiajun Wu, Kai Xu, Hao Zhang
Computer Graphics Forum
2016
Neurally-guided procedural models: learning to guide procedural models with deep neural networks
Daniel Ritchie, Anna Thomas, Pat Hanrahan, Noah D Goodman
arXiv preprint arXiv:1603.06143
2018
Example‐based authoring of procedural modeling programs with structural and continuous variability
Daniel Ritchie, Sarah Jobalia, Anna Thomas
Computer Graphics Forum
2020
GANHopper: Multi-hop GAN for Unsupervised Image-to-Image Translation
Wallace Lira, Johannes Merz, Daniel Ritchie, Daniel Cohen-Or, Hao Zhang
European Conference on Computer Vision
2020
Shapeassembly: Learning to generate programs for 3d shape structure synthesis
R Kenny Jones, Theresa Barton, Xianghao Xu, Kai Wang, Ellen Jiang, Paul Guerrero, Niloy J Mitra, Daniel Ritchie
ACM Transactions on Graphics (TOG)
2016
Probabilistic programming for procedural modeling and design
Daniel Ritchie
2019
Learning Style Compatibility Between Objects in a Real‐World 3D Asset Database
Yifan Liu, Ruolan Tang, Daniel Ritchie
Computer Graphics Forum
2020
Motion Annotation Programs: A Scalable Approach to Annotating Kinematic Articulations in Large 3D Shape Collections
Xianghao Xu, David Charatan, Sonia Raychaudhuri, Hanxiao Jiang, Mae Heitmann, Vladimir Kim, Siddhartha Chaudhuri, Manolis Savva, Angel X Chang, Daniel Ritchie
2020 International Conference on 3D Vision (3DV)
2017
An Improved Training Procedure for Neural Autoregressive Data Completion
Maxime Voisin, Daniel Ritchie
arXiv preprint arXiv:1711.08598
2010
Simulation of Needle Insertion and Tissue Deformation for Modeling Prostate Brachytherapy
Nuttapong Chentanez, Ron Alterovitz, Daniel Ritchie, Lita Cho, Kris K Hauser, Ken Goldberg, Jonathan R Shewchuk, James F O'Brien
Brachytherapy
Quicksand: A Lightweight Implementation of Probabilistic Programming for Procedural Modeling and Design
Daniel Ritchie
2017
Vnect: Real-time 3d human pose estimation with a single rgb camera
Dushyant Mehta, Srinath Sridhar, Oleksandr Sotnychenko, Helge Rhodin, Mohammad Shafiei, Hans-Peter Seidel, Weipeng Xu, Dan Casas, Christian Theobalt
ACM Transactions on Graphics (TOG)
2018
Ganerated hands for real-time 3d hand tracking from monocular RGB
Franziska Mueller, Florian Bernard, Oleksandr Sotnychenko, Dushyant Mehta, Srinath Sridhar, Dan Casas, Christian Theobalt
Proceedings of the IEEE Conference on Computer Vision and Pattern Recognition
2013
Interactive Markerless Articulated Hand Motion Tracking Using RGB and Depth Data
Srinath Sridhar, Antti Oulasvirta, Christian Theobalt
2013 IEEE International Conference on Computer Vision (ICCV)
2015
Fast and robust hand tracking using detection-guided optimization
Srinath Sridhar, Franziska Mueller, Antti Oulasvirta, Christian Theobalt
Proceedings of the IEEE Conference on Computer Vision and Pattern Recognition
2017
Real-time hand tracking under occlusion from an egocentric rgb-d sensor
Franziska Mueller, Dushyant Mehta, Oleksandr Sotnychenko, Srinath Sridhar, Dan Casas, Christian Theobalt
Proceedings of the IEEE International Conference on Computer Vision
2016
Real-time joint tracking of a hand manipulating an object from RGB-D input
Srinath Sridhar, Franziska Mueller, Michael Zollhöfer, Dan Casas, Antti Oulasvirta, Christian Theobalt
European Conference on Computer Vision
2019
Normalized Object Coordinate Space for Category-Level 6D Object Pose and Size Estimation
He Wang, Srinath Sridhar, Jingwei Huang, Julien Valentin, Shuran Song, Leonidas J Guibas
Proceedings of the IEEE Conference on Computer Vision and Pattern Recognition
2018
Single-shot multi-person 3d pose estimation from monocular rgb
Dushyant Mehta, Oleksandr Sotnychenko, Franziska Mueller, Weipeng Xu, Srinath Sridhar, Gerard Pons-Moll, Christian Theobalt
2018 International Conference on 3D Vision (3DV)
2015
Investigating the Dexterity of Multi-Finger Input for Mid-Air Text Entry
Srinath Sridhar, Anna Maria Feit, Christian Theobalt, Antti Oulasvirta
SIGCHI Conference on Human Factors in Computing Systems (CHI)
2014
Real-time Hand Tracking Using a Sum of Anisotropic Gaussians Model
Srinath Sridhar, Helge Rhodin, Hans-Peter Seidel, Antti Oulasvirta, Christian Theobalt
International Conference on 3D Vision (3DV)
2015
Method to generate virtual display surfaces from video imagery of road based scenery
Victor Ng-Thow-Hing, Srinath Sridhar
2017
WatchSense: On-and Above-Skin Input Sensing through a Wearable Depth Sensor
Srinath Sridhar, Anders Markussen, Antti Oulasvirta, Christian Theobalt, Sebastian Boring
Proceedings of the 2017 CHI Conference on Human Factors in Computing Systems
2013
User-Centered Perspectives for Automotive Augmented Reality
Victor Ng-Thow-Hing, Karlin Bark, Lee Beckwith, Cuong Tran, Rishabh Bhandari, Srinath Sridhar
International Symposium on on Mixed and Augmented Reality 2013
2012
Generation of virtual display surfaces for in-vehicle contextual augmented reality
Srinath Sridhar, Victor Ng-Thow-Hing
2012 IEEE International Symposium on Mixed and Augmented Reality (ISMAR)
2019
Learning a Generative Model for Multi‐Step Human‐Object Interactions from Videos
He Wang, Sören Pirk, Ersin Yumer, Vladimir G Kim, Ozan Sener, Srinath Sridhar, Leonidas J Guibas
Computer Graphics Forum
2019
Learning Generalizable Physical Dynamics of 3D Rigid Objects
Davis Rempe, Srinath Sridhar, He Wang, Leonidas J Guibas
arXiv preprint arXiv:1901.00466
2016
FullHand: Markerless Skeleton-based Tracking for Free-Hand Interaction
Srinath Sridhar, Gilles Bailly, Elias Heydrich, Antti Oulasvirta, Christian Theobalt
2014
Fast Tracking of Hand and Finger Articulations Using a Single Depth Camera
Srinath Sridhar, Antti Oulasvirta, Christian Theobalt
Investigating Multi-Finger Gestures for Mid-Air Text Entry
Anna Maria Feit, Srinath Sridhar, Christian Theobalt, Antti Oulasvirta
2021
Continuous geodesic convolutions for learning on 3d shapes
Zhangsihao Yang, Or Litany, Tolga Birdal, Srinath Sridhar, Leonidas Guibas
Proceedings of the IEEE/CVF Winter Conference on Applications of Computer Vision
2020
Predicting the physical dynamics of unseen 3d objects
Davis Rempe, Srinath Sridhar, He Wang, Leonidas Guibas
Proceedings of the IEEE/CVF Winter Conference on Applications of Computer Vision
2013
HandSonor: a customizable vision-based control interface for musical expression
Srinath Sridhar
CHI'13 Extended Abstracts on Human Factors in Computing Systems
Towards Multi-Objective Optimization for UI Design
Anna Maria Feit, Myroslav Bachynskyi, Srinath Sridhar
CHI 2015 Workshop on Principles, Techniques and Perspectives on Optimization and HCI
2021
Representation Learning Through Latent Canonicalizations
Or Litany, Ari Morcos, Srinath Sridhar, Leonidas Guibas, Judy Hoffman
Proceedings of the IEEE/CVF Winter Conference on Applications of Computer Vision
2020
Pix2surf: Learning parametric 3d surface models of objects from images
Jiahui Lei, Srinath Sridhar, Paul Guerrero, Minhyuk Sung, Niloy Mitra, Leonidas J Guibas
European Conference on Computer Vision
2020
CaSPR: Learning Canonical Spatiotemporal Point Cloud Representations
Davis Rempe, Tolga Birdal, Yongheng Zhao, Zan Gojcic, Srinath Sridhar, Leonidas J Guibas
Advances in Neural Information Processing Systems
2019
Learning Generalizable Final-State Dynamics of 3D Rigid Objects
Davis Rempe, Srinath Sridhar, He Wang, Leonidas Guibas
Proceedings of the IEEE/CVF Conference on Computer Vision and Pattern Recognition Workshops
2017
Demo of VNect: Real-time 3D Human Pose Estimation with a Single RGB Camera
Dushyant Mehta, Srinath Sridhar, Oleksandr Sotnychenko, Helge Rhodin, Franziska Mueller, Weipeng Xu, Dan Casas, Christian Theobalt
30th IEEE Conference on Computer Vision and Pattern Recognition
2016
Tracking hands in action for gesture-based computer input
Srinath Sridhar
2011
CAMFPLAN: A Real-time Markerless Camera Pose Estimation System for Augmented Reality
Srinath Sridhar, Vineet R Kamat
2017
Speed/accuracy Trade-offs for Modern Convolutional Object Detectors
Jonathan Huang, Vivek Rathod, Chen Sun, Menglong Zhu, Anoop Korattikara, Alireza Fathi, Ian Fischer, Zbigniew Wojna, Yang Song, Sergio Guadarrama, Kevin Murphy
CVPR 2017
2016
OpenImages: A public dataset for large-scale multi-label and multi-class image classification
Ivan Krasin, Tom Duerig, Neil Alldrin, Andreas Veit, Sami Abu-El-Haija, Serge Belongie, David Cai, Zheyun Feng, Vittorio Ferrari, Victor Gomes, Abhinav Gupta, Dhyanesh Narayanan, Chen Sun, Gal Chechik, Kevin Murphy
github.com/openimages
2017
Revisiting Unreasonable Effectiveness of Data in Deep Learning Era
Chen Sun, Abhinav Shrivastava, Saurabh Singh, Abhinav Gupta
ICCV 2017
2018
Rethinking Spatiotemporal Feature Learning For Video Understanding
Saining Xie, Chen Sun, Jonathan Huang, Zhuowen Tu, Kevin Murphy
ECCV 2018
2018
AVA: A video dataset of spatio-temporally localized atomic visual actions
Chunhui Gu, Chen Sun, David A Ross, Carl Vondrick, Caroline Pantofaru, Yeqing Li, Sudheendra Vijayanarasimhan, George Toderici, Susanna Ricco, Rahul Sukthankar, Cordelia Schmid, Jitendra Malik
CVPR 2018
2017
TURN TAP: Temporal Unit Regression Network for Temporal Action Proposals
Jiyang Gao, Zhenheng Yang, Chen Sun, Kan Chen, Ram Nevatia
ICCV 2017
2019
VideoBERT: A Joint Model for Video and Language Representation Learning
Chen Sun, Austin Myers, Carl Vondrick, Kevin Murphy, Cordelia Schmid
ICCV 2019
2018
The iNaturalist species classification and detection dataset
Grant Van Horn, Oisin Mac Aodha, Yang Song, Yin Cui, Chen Sun, Alex Shepard, Hartwig Adam, Pietro Perona, Serge Belongie
CVPR 2018
2018
Large Scale Fine-Grained Categorization and Domain-Specific Transfer Learning
Yin Cui, Yang Song, Chen Sun, Andrew Howard, Serge Belongie
CVPR 2018
2017
TALL: Temporal Activity Localization via Language Query
Jiyang Gao, Chen Sun, Zhenheng Yang, Ram Nevatia
ICCV 2017
2015
Temporal localization of fine-grained actions in videos by domain transfer from web images
Chen Sun, Sanketh Shetty, Rahul Sukthankar, Ram Nevatia
ACM Multimedia 2015
2020
What makes for good views for contrastive learning
Yonglong Tian, Chen Sun, Ben Poole, Dilip Krishnan, Cordelia Schmid, Phillip Isola
NeurIPS 2020
2013
Large-scale web video event classification by use of Fisher Vectors
Chen Sun, Ram Nevatia
WACV 2013
2013
ACTIVE: Activity concept transitions in video event classification
Chen Sun, Ram Nevatia
ICCV 2013
2018
Actor-Centric Relation Network
Chen Sun, Abhinav Shrivastava, Carl Vondrick, Kevin Murphy, Rahul Sukthankar, Cordelia Schmid
ECCV 2018
2016
Webly-supervised video recognition by mutually voting for relevant web images and web video frames
Chuang Gan, Chen Sun, Lixin Duan, Boqing Gong
ECCV 2016
2015
Automatic Concept Discovery from Parallel Text and Visual Corpora
Chen Sun, Chuang Gan, Ram Nevatia
ICCV 2015
2014
DISCOVER: Discovering Important Segments for Classification of Video Events and Recounting
Chen Sun, Ram Nevatia
CVPR 2014
2019
Composing Text and Image for Image Retrieval-An Empirical Odyssey
Nam Vo, Lu Jiang, Chen Sun, Kevin Murphy, Li-Jia Li, Li Fei-Fei, James Hays
CVPR 2019
2020
D3d: Distilled 3d networks for video action recognition
Jonathan Stroud, David Ross, Chen Sun, Jia Deng, Rahul Sukthankar
WACV 2020
2017
VQS: Linking segmentations to questions and answers for supervised attention in vqa and question-focused semantic segmentation
Chuang Gan, Yandong Li, Haoxiang Li, Chen Sun, Boqing Gong
ICCV 2017
2016
ProNet: Learning to propose object-specific boxes for cascaded neural networks
Chen Sun, Manohar Paluri, Ronan Collobert, Ram Nevatia, Lubomir Bourdev
CVPR 2016
2019
Stochastic Prediction of Multi-Agent Interactions from Partial Observations
Chen Sun, Per Karlsson, Jiajun Wu, Joshua B Tenenbaum, Kevin Murphy
ICLR 2019
2019
Relational Action Forecasting
Chen Sun, Abhinav Shrivastava, Carl Vondrick, Rahul Sukthankar, Kevin Murphy, Cordelia Schmid
CVPR 2019
2014
Evaluating multimedia features and fusion for example-based event detection
Gregory K Myers, Ramesh Nallapati, Julien van Hout, Stephanie Pancoast, Ramakant Nevatia, Chen Sun, Amirhossein Habibian, Dennis C Koelma, Koen EA van de Sande, Arnold WM Smeulders, Cees GM Snoek
Machine Vision and Applications
2020
VectorNet: Encoding HD Maps and Agent Dynamics from Vectorized Representation
Jiyang Gao, Chen Sun, Hang Zhao, Yi Shen, Dragomir Anguelov, Congcong Li, Cordelia Schmid
CVPR 2020
2019
Unsupervised Learning of Object Structure and Dynamics from Videos
Matthias Minderer, Chen Sun, Ruben Villegas, Forrester Cole, Kevin Murphy, Honglak Lee
NeurIPS 2019
2019
Learning video representations using contrastive bidirectional transformer
Chen Sun, Fabien Baradel, Kevin Murphy, Cordelia Schmid
arXiv preprint arXiv:1906.05743
2019
Unsupervised Discovery of Parts, Structure, and Dynamics
Zhenjia Xu, Zhijian Liu, Chen Sun, Kevin Murphy, William T Freeman, Joshua B Tenenbaum, Jiajun Wu
ICLR 2019
2020
Multi-modal Transformer for Video Retrieval
Valentin Gabeur, Chen Sun, Karteek Alahari, Cordelia Schmid
ECCV 2020
2014
ISOMER: Informative Segment Observations for Multimedia Event Recounting
Chen Sun, Brian Burns, Ram Nevatia, Cees Snoek, Bob Bolles, Greg Myers, Wen Wang, Eric Yeh
International Conference on Multimedia Retrieval
2018
DiscrimNet: Semi-Supervised Action Recognition from Videos using Generative Adversarial Networks
Unaiza Ahsan, Chen Sun, Irfan Essa
arXiv preprint arXiv:1801.07230
2017
Complex Event Recognition from Images with Few Training Examples
Unaiza Ahsan, Chen Sun, James Hays, Irfan Essa
Applications of Computer Vision (WACV), 2017 IEEE Winter Conference on
2020
TNT: Target-driveN Trajectory Prediction
Hang Zhao, Jiyang Gao, Tian Lan, Chen Sun, Benjamin Sapp, Balakrishnan Varadarajan, Yue Shen, Yi Shen, Yuning Chai, Cordelia Schmid, Congcong Li, Dragomir Anguelov
CoRL 2020
2020
Speech2Action: Cross-modal Supervision for Action Recognition
Arsha Nagrani, Chen Sun, David Ross, Rahul Sukthankar, Cordelia Schmid, Andrew Zisserman
CVPR 2020
2014
Semantic aware video transcription using random forest classifiers
Chen Sun, Ram Nevatia
European Conference on Computer Vision
2017
Deck: Discovering event composition knowledge from web images for zero-shot event detection and recounting in videos
Chuang Gan, Chen Sun, Ram Nevatia
2017
Systems and methods for content classification and detection using convolutional neural networks
Balamanohar Paluri, Lubomir Bourdev, Ronan Stéfan Collobert, Chen Sun
2009
Thu-img at trecvid 2009
Yingyu Liang, Binbin Cao, Jianmin Li, Chenguang Zhu, Yongchao Zhang, Chenhao Tan, Ge Chen, Chen Sun, Jinhui Yuan, Mingxing Xu, Bo Zhang
Proceedings of TRECVID 2009 workshop
2016
ACD: Action concept discovery from image-sentence corpora
Jiyang Gao, Chen Sun, Ram Nevatia
Proceedings of the 2016 ACM on International Conference on Multimedia Retrieval
2010
THU-IMG at TRECVID 2010
Chen Sun, Jianmin Li, Bo Zhang, Qingtian Zhang
TRECVID workshop
2013
The 2013 sesame multimedia event detection and recounting system
Gregory K Myers, Ramesh Nallapati, Julien van Hout, Stephanie Pancoast, Ramakant Nevatia, Chen Sun, Amirhossein Habibian, Dennis C Koelma, Koen EA van de Sande, Arnold WM Smeulders
Proceedings of TRECVID
2012
The 2012 SESAME Multimedia Event Detection (MED) System.
Murat Akbacak, Robert C Bolles, J Brian Burns, Mark Elliot, Aaron Heller, James A Herson, Gregory K Myers, Ramesh Nallapati, Stephanie Pancoast, Julien van Hout, Eric Yeh, AmirHossein Habibian, Dennis C Koelma, Zhenyang Li, Masoud Mazloom, Silvia-Laura Pintea, Koen EA van de Sande, Arnold WM Smeulders, Cees GM Snoek, Sung Chun Lee, Ram Nevatia, Pramod Sharma, Chen Sun, Rémi Trichet
TRECVID
2014
Late fusion and calibration for multimedia event detection using few examples
Julien Van Hout, Eric Yeh, Dennis C Koelma, Cees GM Snoek, Chen Sun, Ramakant Nevatia, Julie Wong, Gregory K Myers
2014 IEEE International Conference on Acoustics, Speech and Signal Processing (ICASSP)
2020
The End-of-End-to-End: A Video Understanding Pentathlon Challenge (2020)
Samuel Albanie, Yang Liu, Arsha Nagrani, Antoine Miech, Ernesto Coto, Ivan Laptev, Rahul Sukthankar, Bernard Ghanem, Andrew Zisserman, Valentin Gabeur, Chen Sun, Karteek Alahari, Cordelia Schmid, Shizhe Chen, Yida Zhao, Qin Jin, Kaixu Cui, Hui Liu, Chen Wang, Yudong Jiang, Xiaoshuai Hao
arXiv preprint arXiv:2008.00744
2020
Uncertainty-Aware Weakly Supervised Action Detection from Untrimmed Videos
Anurag Arnab, Chen Sun, Arsha Nagrani, Cordelia Schmid
ECCV 2020
2020
Object Action Classification For Autonomous Vehicles
Junhua Mao, Congcong Li, Alper Ayvaci, Chen Sun, Kevin Murphy, Ruichi Yu
2020
CVPR 2020 video pentathlon challenge: Multi-modal transformer for video retrieval
Valentin Gabeur, Chen Sun, Karteek Alahari, Cordelia Schmid
CVPR Video Pentathlon Workshop
The 2011 SESAME Multimedia Event Detection (MED) System
Mark Eliot, Aaron Heller, James A Herson, Gregory K Myers, Ramesh Nallapati, Eric Yeh, Koen EA van de Sande, Arnold WM Smeulders, Cees GM Snoek, Chen Sun, Remi Trichet
2021
Local Metrics for Multi-Object Tracking
Jack Valmadre, Alex Bewley, Jonathan Huang, Chen Sun, Cristian Sminchisescu, Cordelia Schmid
arXiv preprint arXiv:2104.02631
2019
Fine-grained video classification
Chen Sun, Sanketh Shetty
2010
Conversational tagging in twitter
Jeff Huang, Katherine M Thornton, Efthimis N Efthimiadis
Hypertext
2009
Analyzing and evaluating query reformulation strategies in web search logs
Jeff Huang, Efthimis N Efthimiadis
CIKM (Conference on Information and Knowledge Management)
2011
No clicks, no problem: using cursor movements to understand and improve search
Jeff Huang, Ryen W White, Susan Dumais
CHI (Conference on Human Factors in Computing Systems)
2011
Starcraft from the stands: understanding the game spectator
Gifford Cheung, Jeff Huang
CHI (Conference on Human Factors in Computing Systems)
2012
User See, User Point: Gaze and Cursor Alignment in Web Search
Jeff Huang, Ryen W White, Georg Buscher
CHI
2016
WebGazer: Scalable Webcam Eye Tracking Using User Interactions
Alexandra Papoutsaki, Patsorn Sangkloy, James Laskey, Nediyana Daskalova, Jeff Huang, James Hays
IJCAI
2010
Assessing the scenic route: measuring the value of search trails in web logs
Ryen W White, Jeff Huang
SIGIR (Conference on Research and Development in Information Retrieval)
2012
Large-Scale Analysis of Individual and Task Differences in Search Result Page Examination Strategies
Georg Buscher, Ryen W White, Susan T Dumais, Jeff Huang
WSDM
2012
Improving searcher models using mouse cursor activity
Jeff Huang, Ryen W White, Georg Buscher, Kuansan Wang
SIGIR
2016
Learning behaviors via human-delivered discrete feedback: modeling implicit feedback strategies to speed up learning
Robert Loftin, Bei Peng, James MacGlashan, Michael L Littman, Matthew E Taylor, Jeff Huang, David L Roberts
Autonomous Agents and Multi-Agent Systems
2010
Parallel browsing behavior on the web
Jeff Huang, Ryen W White
Hypertext
2014
A strategy-aware technique for learning behaviors from discrete human feedback
Robert Loftin, James MacGlashan, Bei Peng, Matthew E Taylor, Michael L Littman, Jeff Huang, David L Roberts
Proceedings of the 28th AAAI Conference on Artificial Intelligence (AAAI-2014)
2010
Studying trailfinding algorithms for enhanced web search
Adish Singla, Ryen White, Jeff Huang
SIGIR (Conference on Research and Development in Information Retrieval)
2016
SleepCoacher: A Personalized Automated Self-Experimentation System for Sleep Recommendations
Nediyana Daskalova, Danaë Metaxa-Kakavouli, Adrienne Tran, Nicole Nugent, Julie Boergers, John McGeary, Jeff Huang
Proceedings of the 29th Annual Symposium on User Interface Software and Technology
2012
RevMiner: An Extractive Interface for Navigating Reviews on a Smartphone
Jeff Huang, Oren Etzioni, Luke Zettlemoyer, Kevin Clark, Christian Lee
UIST
2013
Cursor Activity Evaluation For Search Result Enhancement
Ryen William White, Georg LW Buscher, Susan T Dumais, Jeff Huang, Kuansan Wang, Abdigani M Diriye
2017
Master maker: Understanding gaming skill through practice and habit from gameplay behavior
Jeff Huang, Eddie Yan, Gifford Cheung, Nachiappan Nagappan, Thomas Zimmermann
Topics in Cognitive Science
2015
Representing Uncertainty in Graph Edges: An Evaluation of Paired Visual Variables
Hua Guo, Jeff Huang, David H Laidlaw
IEEE transactions on visualization and computer graphics
2013
Mastering the art of war: how patterns of gameplay influence skill in Halo
Jeff Huang, Thomas Zimmermann, Nachiappan Nagappan, Charles Harrison, Bruce C Phillips
CHI
2017
SearchGazer: Webcam Eye Tracking for Remote Studies of Web Search
Alexandra Papoutsaki, James Laskey, Jeff Huang
Proceedings of the 2017 Conference on Conference Human Information Interaction and Retrieval
2007
Graphstract: minimal graphical help for computers
Jeff Huang, Michael B Twidale
UIST (Symposium on User Interface Software and Technology)
2012
Web User Interaction Mining from Touch-Enabled Mobile Devices
Jeff Huang, Abdigani Diriye
HCIR 2012
2019
Establishing search results and deeplinks using trails
Ryen W White, Peter Bailey, Nikhil Dandekar, Adish Singla, Jeff Huang
2012
Massively distributed authorship of academic papers
Bill Tomlinson, Joel Ross, Paul Andre, Eric Baumer, Donald Patterson, Joseph Corneli, Martin Mahaux, Syavash Nobarany, Marco Lazzari, Birgit Penzenstadler, Andrew Torrance, David Callele, Gary Olson, Marcus Stünder, Fabio Romancini Palamedi, Albert Ali Salah, Eric Morrill, Xavier Franch, Florian Floyd Mueller, Joseph'Jofish' Kaye, Rebecca W Black, Marisa L Cohn, Patrick C Shih, Johanna Brewer, Nitesh Goyal, Pirjo Näkki, Jeff Huang, Nilufar Baghaei, Craig Saper
alt.chi
2016
Strokes of insight: User intent detection and kinematic compression of mouse cursor trails
Daniel Martín-Albo, Luis A Leiva, Jeff Huang, Réjean Plamondon
Information Processing & Management
2017
Lessons Learned from Two Cohorts of Personal Informatics Self-Experiments
Nediyana Daskalova, Karthik Desingh, Alexandra Papoutsaki, Diane Schulze, Han Sha, Jeff Huang
Proceedings of the ACM on Interactive, Mobile, Wearable and Ubiquitous Technologies
2012
No Search Result Left Behind: Branching Behavior with Browser Tabs
Jeff Huang, Thomas Lin, Ryen W White
WSDM (Conference on Web Search and Data Mining)
2014
Learning something from nothing: Leveraging implicit human feedback strategies
Robert Loftin, Bei Peng, James MacGlashan, Michael L Littman, Matthew E Taylor, Jeff Huang, David L Roberts
The 23rd IEEE International Symposium on Robot and Human Interactive Communication
2015
Building a better mousetrap: Compressing mouse cursor activity for web analytics
Luis A Leiva, Jeff Huang
Information Processing & Management
2018
Investigating the Effectiveness of Cohort-Based Sleep Recommendations
Nediyana Daskalova, Bongshin Lee, Jeff Huang, Chester Ni, Jessica Lundin
Proceedings of the ACM on Interactive, Mobile, Wearable and Ubiquitous Technologies
2015
Masters of Control: Behavioral Patterns of Simultaneous Unit Group Manipulation in StarCraft 2
Eddie Q Yan, Jeff Huang, Gifford K Cheung
Proceedings of the 33rd Annual ACM Conference on Human Factors in Computing Systems
2009
Search techniques for chat content
Jeff Huang
2015
Crowdsourcing from scratch: A pragmatic experiment in data collection by novice requesters
Alexandra Papoutsaki, Hua Guo, Danae Metaxa-Kakavouli, Connor Gramazio, Jeff Rasley, Wenting Xie, Guan Wang, Jeff Huang
Proceedings of the AAAI Conference on Human Computation and Crowdsourcing
2019
Portal-ble: Intuitive Free-hand Manipulation in Unbounded Smartphone-based Augmented Reality
Jing Qian, Jiaju Ma, Xiangyu Li, Benjamin Attal, Haoming Lai, James Tompkin, John F Hughes, Jeff Huang
Proceedings of the 32nd Annual ACM Symposium on User Interface Software and Technology
2010
Optimal strategies for reviewing search results
Jeff Huang, Anna Kazeykina
AAAI (Conference on Artificial Intelligence)
2005
Graphical abstract help
Jeff Huang, Bo Lu, Michael B Twidale
CHINZ (ACM SIGCHI New Zealand Chapter's International Conference on Computer-Human Interaction)
2019
Evaluating Pan and Zoom Timelines and Sliders
Michail Schwab, Sicheng Hao, Olga Vitek, James Tompkin, Jeff Huang, Michelle A Borkin
Proceedings of the 2019 CHI Conference on Human Factors in Computing Systems
2011
On the Value of Page-Level Interactions in Web Search
Jeff Huang
HCIR (Workshop on Human-Computer Interaction and Information Retrieval)
2010
System and method for ranking and grouping results of code searches
Jeff Huang, Michael Cameron Jones
2012
Remix and Play: Lessons from Rule Variants in Texas Hold'em and Halo 2
Gifford Cheung, Jeff Huang
CSCW
2020
SleepBandits: Guided Flexible Self-Experiments for Sleep
Nediyana Daskalova, Jina Yoon, Guillermo Beltran, Cintia Araujo, Yibing Wang, Joseph Jay Williams, Nicole Nugent, John McGeary, Jeff Huang
Proceedings of the 2020 CHI Conference on Human Factors in Computing Systems
2012
Interactive Search Support for Difficult Web Queries
Abdigani Diriye, Giridhar Kumaran, Jeff Huang
ECIR
2007
Mystery meat revisited: spam, anti-spam measures and digital redlining
Christopher Lueg, Jeff Huang, Michael Twidale
Webology
2019
EasyPZ. js: Interaction Binding for Pan and Zoom Visualizations
Michail Schwab, James Tompkin, Jeff Huang, Michelle A Borkin
2019 IEEE Visualization Conference (VIS)
2018
Remotion: A Motion-Based Capture and Replay Platform of Mobile Device Interaction for Remote Usability Testing
Jing Qian, Arielle Chapin, Alexandra Papoutsaki, Fumeng Yang, Klaas Nelissen, Jeff Huang
Proceedings of the ACM on Interactive, Mobile, Wearable and Ubiquitous Technologies
2009
Query formulation in web search
Efthimis N Efthimiadis, Jeff Huang, Amanda Spink, Jim Jansen
Proceedings of the American Society for Information Science and Technology
2020
Sketchy: Drawing Inspiration from the Crowd
Shaun Wallace, Brendan Le, Luis A Leiva, Aman Haq, Ari Kintisch, Gabrielle Bufrem, Linda Chang, Jeff Huang
Proceedings of the ACM on Human-Computer Interaction
2020
Portalware: A Smartphone-Wearable Dual-Display System for Expanding the Free-Hand Interaction Region in Augmented Reality
Jing Qian, Meredith Young-Ng, Xiangyu Li, Angel Cheung, Fumeng Yang, Jeff Huang
2018
Rewind: Automatically Reconstructing Everyday Memories with First-Person Perspectives
Neille-Ann H Tan, Han Sha, Eda Celen, Phucanh Tran, Kelly Wang, Gifford Cheung, Philip Hinch, Jeff Huang
Proceedings of the ACM on Interactive, Mobile, Wearable and Ubiquitous Technologies
2018
SEEDE: simultaneous execution and editing in a development environment
Steven P Reiss, Qi Xin, Jeff Huang
2018 33rd IEEE/ACM International Conference on Automated Software Engineering (ASE)
2018
An Analysis of Automated Visual Analysis Classification: Interactive Visualization Task Inference of Cancer Genomics Domain Experts
Connor C Gramazio, Jeff Huang, David H Laidlaw
IEEE transactions on visualization and computer graphics
2009
Studying query reformulation strategies in search logs.
Jeff Huang, Efthimis N Efthimiadis
ASIST
2006
Mystery Meat: Where does spam come from, and why does it matter?
Christopher Lueg, Jeff Huang, Michael B Twidale
EICAR
2021
Self-E: Smartphone-Supported Guidance for Customizable Self-Experimentation
Nediyana Daskalova, Eindra Kyi, Kevin Ouyang, Arthur Borem, Sally Chen, Sung Hyun Park, Nicole Nugent, Jeff Huang
2020
Sochiatrist: Signals of Affect in Messaging Data
Talie Massachi, Grant Fong, Varun Mathur, Sachin R Pendse, Gabriela Hoefer, Jessica J Fu, Chong Wang, Nikita Ramoji, Nicole R Nugent, Megan L Ranney, Daniel P Dickstein, Michael F Armey, Ellie Pavlick, Jeff Huang
Proceedings of the ACM on Human-Computer Interaction
2017
Drafty: Enlisting Users To Be Editors Who Maintain Structured Data
Shaun Wallace, Lucy Van Kleunen, Marianne Aubin-Le Quere, Abraham Peterkin, Yirui Huang, Jeff Huang
Proceedings of the AAAI Conference on Human Computation and Crowdsourcing
2008
The Immunological Genome Project: networks of gene expression in immune cells
Tracy SP Heng, Michio W Painter, Kutlu Elpek, Veronika Lukacs-Kornek, Nora Mauermann, Shannon J Turley, Daphne Koller, Francis S Kim, Amy J Wagers, Natasha Asinovski, Scott Davis, Marlys Fassett, Markus Feuerer, Daniel HD Gray, Sokol Haxhinasto, Jonathan A Hill, Gordon Hyatt, Catherine Laplace, Kristen Leatherbee, Diane Mathis, Christophe Benoist, Radu Jianu, David H Laidlaw, J Adam Best, Jamie Knell, Ananda W Goldrath, Jessica Jarjoura, Joseph C Sun, Yanan Zhu, Lewis L Lanier, Ayla Ergun, Zheng Li, James J Collins, Susan A Shinton, Richard R Hardy, Randall Friedline, Katelyn Sylvia, Joonsoo Kang
Nature immunology
2000
Immersive VR for scientific visualization: A progress report
Andries Van Dam, Andrew S Forsberg, David H Laidlaw, Joseph J LaViola, Rosemary M Simpson
IEEE Computer Graphics and Applications
2001
CavePainting: A fully immersive 3D artistic medium and interactive experience
Daniel F Keefe, Daniel Acevedo Feliz, Tomer Moscovich, David H Laidlaw, Joseph J LaViola Jr
1998
Partial-volume Bayesian classification of material mixtures in MR volume data using voxel histograms
David H Laidlaw, Kurt W Fleischer, Alan H Barr
IEEE transactions on medical imaging
2007
Fluorine‐19 MRI for visualization and quantification of cell migration in a diabetes model
Mangala Srinivas, Penelope A Morel, Lauren A Ernst, David H Laidlaw, Eric T Ahrens
Magnetic Resonance in Medicine: An Official Journal of the International Society for Magnetic Resonance in Medicine
2003
Visualizing diffusion tensor MR images using streamtubes and streamsurfaces
Song Zhang, Cagatay Demiralp, David H Laidlaw
IEEE Transactions on Visualization and Computer Graphics
1999
Visualizing multivalued data from 2D incompressible flows using concepts from painting
Robert M Kirby, Haralambos Marmanis, David H Laidlaw
Proceedings Visualization'99 (Cat. No. 99CB37067)
2003
Thoughts on user studies: Why, how, and when
Robert Kosara, Christopher G Healey, Victoria Interrante, David H Laidlaw, Colin Ware
IEEE Computer Graphics and Applications
1986
Constructive solid geometry for polyhedral objects
David H Laidlaw, W Benjamin Trumbore, John F Hughes
1998
Visualizing diffusion tensor images of the mouse spinal cord
David H Laidlaw, Eric T Ahrens, David Kremers, Matthew J Avalos, Russell E Jacobs, Carol Readhead
Proceedings Visualization'98 (Cat. No. 98CB36276)
1995
Cellular texture generation
Kurt W Fleischer, David H Laidlaw, Bena L Currin, Alan H Barr
2005
Comparing 2D vector field visualization methods: A user study
David H Laidlaw, Robert M Kirby, Cullen D Jackson, J Scott Davidson, Timothy S Miller, Marco Da Silva, William H Warren, Michael J Tarr
IEEE Transactions on Visualization and Computer Graphics
2000
Three‐dimensional, time‐resolved (4D) relative pressure mapping using magnetic resonance imaging
J Michael Tyszka, David H Laidlaw, Joseph W Asa, Jeffrey M Silverman
Journal of Magnetic Resonance Imaging: An Official Journal of the International Society for Magnetic Resonance in Medicine
2008
Quantifying the complexity of bat wing kinematics
Daniel K Riskin, David J Willis, José Iriarte-Díaz, Tyson L Hedrick, Mykhaylo Kostandov, Jian Chen, David H Laidlaw, Kenneth S Breuer, Sharon M Swartz
Journal of theoretical biology
2002
Experiments in immersive virtual reality for scientific visualization
Andries Van Dam, David H Laidlaw, Rosemary Michelle Simpson
Computers & Graphics
2009
In vivo cytometry of antigen‐specific t cells using 19F MRI
Mangala Srinivas, Michael S Turner, Jelena M Janjic, Penelope A Morel, David H Laidlaw, Eric T Ahrens
Magnetic Resonance in Medicine: An Official Journal of the International Society for Magnetic Resonance in Medicine
2006
Cave and fishtank virtual-reality displays: A qualitative and quantitative comparison
Cagatay Demiralp, Cullen D Jackson, David B Karelitz, Song Zhang, David H Laidlaw
IEEE transactions on visualization and computer graphics
2001
An immersive virtual environment for DT-MRI volume visualization applications: a case study
Song Zhang, Cagatay Demiralp, Daniel F Keefe, Marco DaSilva, David H Laidlaw, Benjamin D Greenberg, Peter J Basser, Carlo Pierpaoli, Ennio Antonio Chiocca, Thomas S Deisboeck
Proceedings Visualization, 2001. VIS'01.
2008
Chronic cigarette smoking and the microstructural integrity of white matter in healthy adults: a diffusion tensor imaging study
Robert H Paul, Stuart M Grieve, Raymond Niaura, Sean P David, David H Laidlaw, Ronald Cohen, Lawrence Sweet, George Taylor, C Richard Clark, Sakire Pogun, Evian Gordon
Nicotine & Tobacco Research
2008
Identifying white-matter fiber bundles in DTI data using an automated proximity-based fiber-clustering method
Song Zhang, Stephen Correia, David H Laidlaw
IEEE transactions on visualization and computer graphics
1998
MR microscopy of transgenic mice that spontaneously acquire experimental allergic encephalomyelitis
Eric T Ahrens, David H Laidlaw, Carol Readhead, Celia F Brosnan, Scott E Fraser, Russell E Jacobs
Magnetic resonance in medicine
2004
Estimating joint contact areas and ligament lengths from bone kinematics and surfaces
G Elisabeta Marai, David H Laidlaw, Cagatay Demiralp, Stuart Andrews, Cindy M Grimm, Joseph J Crisco
IEEE Transactions on Biomedical Engineering
2008
Quantitative tractography metrics of white matter integrity in diffusion-tensor MRI
Stephen Correia, Stephanie Y Lee, Thom Voorn, David F Tate, Robert H Paul, Song Zhang, Stephen P Salloway, Paul F Malloy, David H Laidlaw
Neuroimage
2007
Frontal white matter integrity in borderline personality disorder with self-injurious behavior
Jon E Grant, Stephen Correia, Thea Brennan-Krohn, Paul F Malloy, David H Laidlaw, S Charles Schulz
The Journal of neuropsychiatry and clinical neurosciences
2007
Effects of distal radius malunion on distal radioulnar joint mechanics—an in vivo study
Joseph J Crisco, Douglas C Moore, G Elisabeta Marai, David H Laidlaw, Edward Akelman, Arnold‐Peter C Weiss, Scott W Wolfe
Journal of Orthopaedic Research
2015
A case study using visualization interaction logs and insight metrics to understand how analysts arrive at insights
Hua Guo, Steven R Gomez, Caroline Ziemkiewicz, David H Laidlaw
IEEE transactions on visualization and computer graphics
2007
Neuroimaging of white matter in aging and dementia
Paul Malloy, Stephen Correia, Glenn Stebbins, David H Laidlaw
2011
Clinical contributors to cerebral white matter integrity in HIV-infected individuals
Assawin Gongvatana, Ronald A Cohen, Stephen Correia, Kathryn N Devlin, Jadrian Miles, Hakmook Kang, Hernando Ombao, Bradford Navia, David H Laidlaw, Karen T Tashima
Journal of neurovirology
2001
Archaeological data visualization in VR: Analysis of lamp finds at the Great Temple of Petra, a case study
Daniel Acevedo, Eileen Vote, David H Laidlaw, Martha S Joukowsky
Proceedings Visualization, 2001. VIS'01.
2004
Interactive volume rendering of thin thread structures within multivalued scientific data sets
Andreas Wenger, Daniel F Keefe, Song Zhang, David H Laidlaw
IEEE Transactions on Visualization and Computer Graphics
2009
A new approach for quantitative phosphoproteomic dissection of signaling pathways applied to T cell receptor activation
Vinh Nguyen, Lulu Cao, Jonathan T Lin, Norris Hung, Anna Ritz, Kebing Yu, Radu Jianu, Samuel P Ulin, Benjamin J Raphael, David H Laidlaw, Laurent Brossay, Arthur R Salomon
Molecular & cellular proteomics
2001
Assembling virtual pots from 3D measurements of their fragments
David B Cooper, Andrew Willis, Stuart Andrews, Jill Baker, Yan Cao, Dongjin Han, Kongbin Kang, Weixin Kong, Frederic F Leymarie, Xavier Orriols, Senem Velipasalar, Eileen L Vote, Martha S Joukowsky, Benjamin B Kimia, David H Laidlaw, David Mumford
2003
Information and scientific visualization: Separate but equal or happy together at last
Theresa-Marie Rhyne, Melanie Tory, Tamara Munzner, Matt Ward, Chris Johnson, David H Laidlaw
Visualization Conference, IEEE
2016
Colorgorical: Creating discriminable and preferable color palettes for information visualization
Connor C Gramazio, David H Laidlaw, Karen B Schloss
IEEE transactions on visualization and computer graphics
2001
Quantitative comparative evaluation of 2D vector field visualization methods
David H Laidlaw, Robert M Kirby, J Scott Davidson, Timothy S Miller, Marco Da Silva, William H Warren, Michael Tarr
Proceedings Visualization, 2001. VIS'01.
2008
Method, apparatus and computer program product for the interactive rendering of multivalued volume data with layered complementary values
David H Laidlaw, Andreas Wenger
2006
Super-resolution registration using tissue-classified distance fields
G Elisabeta Marai, David H Laidlaw, Joseph J Crisco
IEEE transactions on medical imaging
2004
Visualization and analysis of white matter structural asymmetry in diffusion tensor MRI data
Song Zhang, Mark E Bastin, David H Laidlaw, Saurabh Sinha, Paul A Armitage, Thomas S Deisboeck
Magnetic Resonance in Medicine: An Official Journal of the International Society for Magnetic Resonance in Medicine
2010
Quantitative diffusion tensor imaging tractography metrics are associated with cognitive performance among HIV-infected patients
David F Tate, Jared Conley, Robert H Paul, Kathryn Coop, Song Zhang, Wenjin Zhou, David H Laidlaw, Lynn E Taylor, Timothy Flanigan, Bradford Navia, Ronald Cohen, Karen Tashima
Brain Imaging and Behavior
2008
Scientific sketching for collaborative VR visualization design
Daniel F Keefe, Daniel Acevedo, Jadrian Miles, Fritz Drury, Sharon M Swartz, David H Laidlaw
Visualization and Computer Graphics, IEEE Transactions on
2005
Artistic collaboration in designing VR visualizations
Daniel F Keefe, David B Karelitz, Eileen L Vote, David H Laidlaw
IEEE Computer Graphics and Applications
2002
Discovering petra: Archaeological analysis in vr
Eileen Vote, Daniel Acevedo Feliz, David H Laidlaw, Martha Sharp Joukowsky
IEEE Computer Graphics and Applications
2014
The morphology of the thumb carpometacarpal joint does not differ between men and women, but changes with aging and early osteoarthritis
Eni Halilaj, Douglas C Moore, David H Laidlaw, Christopher J Got, Arnold-Peter C Weiss, Amy L Ladd, Joseph J Crisco
Journal of biomechanics
2014
Visual embedding: A model for visualization
Çagatay Demiralp, Carlos E Scheidegger, Gordon L Kindlmann, David H Laidlaw, Jeffrey Heer
IEEE Computer Graphics and Applications
2005
Anatomical analysis of an aye‐aye brain (Daubentonia madagascariensis, primates: Prosimii) combining histology, structural magnetic resonance imaging, and …
Jason A Kaufman, Eric T Ahrens, David H Laidlaw, Song Zhang, John M Allman
The Anatomical Record Part A: Discoveries in Molecular, Cellular, and Evolutionary Biology: An Official Publication of the American Association of Anatomists
2015
Brain structure and cognitive correlates of body mass index in healthy older adults
Jacob D Bolzenius, David H Laidlaw, Ryan P Cabeen, Thomas E Conturo, Amanda R McMichael, Elizabeth M Lane, Jodi M Heaps, Lauren E Salminen, Laurie M Baker, Staci E Scott, Sarah A Cooley, John Gunstad, Robert H Paul
Behavioural brain research
2005
Diffusion tensor MRI visualization.
Song Zhang, David H Laidlaw, Gordon L Kindlmann
2004
Particle flurries
Jason S Sobel, Andrew S Forsberg, David H Laidlaw, Robert C Zeleznik, Daniel F Keefe, Igor Pivkin, George E Karniadakis, Peter Richardson, Sharon Swartz
IEEE Computer Graphics and Applications
2011
Exploring brain connectivity with two-dimensional neural maps
Radu Jianu, Cagatay Demiralp, David H Laidlaw
IEEE transactions on visualization and computer graphics
2000
Immersive virtual reality for visualizing flow through an artery
Andrew S Forsberg, David H Laidlaw, Andries Van Dam, Robert M Kirby, GE Kafniadakis, Jonathan L Elion
Proceedings Visualization 2000. VIS 2000 (Cat. No. 00CH37145)
2015
Representing uncertainty in graph edges: An evaluation of paired visual variables
Hua Guo, Jeff Huang, David H Laidlaw
IEEE transactions on visualization and computer graphics
2012
Effects of stereo and screen size on the legibility of three-dimensional streamtube visualization
Jian Chen, Haipeng Cai, Alexander P Auchus, David H Laidlaw
IEEE transactions on Visualization and Computer Graphics
2008
Using visual design experts in critique-based evaluation of 2D vector visualization methods
Daniel Acevedo, Cullen D Jackson, Fritz Drury, David H Laidlaw
IEEE Transactions on Visualization and Computer Graphics
1995
Geometric model extraction from magnetic resonance volume data
David H Laidlaw
2013
Impact of body mass index on neuronal fiber bundle lengths among healthy older adults
Jacob D Bolzenius, David H Laidlaw, Ryan P Cabeen, Thomas E Conturo, Amanda R McMichael, Elizabeth M Lane, Jodi M Heaps, Lauren E Salminen, Laurie M Baker, John Gunstad, Robert H Paul
Brain imaging and behavior
2002
Bayesian pot-assembly from fragments as problems in perceptual-grouping and geometric-learning
David B Cooper, Andrew Willis, Stuart Andrews, Jill Baker, Yan Cao, Dongjin Han, Kongbin Kang, Weixin Kong, Frederic F Leymarie, Xavier Orriols, Senem Velipasalar, Eileen L Vote, Martha S Joukowsky, Benjamin B Kimia, David H Laidlaw, David Mumford
Pattern Recognition, International Conference on
2016
Kernel regression estimation of fiber orientation mixtures in diffusion MRI
Ryan P Cabeen, Mark E Bastin, David H Laidlaw
Neuroimage
2008
Visualization criticism
Robert Kosara, Fritz Drury, Lars Erik Holmquist, David H Laidlaw
IEEE Computer Graphics and Applications
2006
Identification of fibers at risk for degeneration by diffusion tractography in patients at high risk for MS after a clinically isolated syndrome
Jack H Simon, Song Zhang, David H Laidlaw, David E Miller, Mark Brown, John Corboy, Jeffrey Bennett
Journal of Magnetic Resonance Imaging: An Official Journal of the International Society for Magnetic Resonance in Medicine
2014
The relation between visualization size, grouping, and user performance
Connor C Gramazio, Karen B Schloss, David H Laidlaw
IEEE transactions on visualization and computer graphics
2009
Visualization and processing of tensor fields: advances and perspectives
David H Laidlaw, Joachim Weickert
2005
DTI fiber clustering and cross-subject cluster analysis
Song Zhang, David H Laidlaw
Proceedings of ISMRM
2002
Fitting manifold surfaces to three-dimensional point clouds
Cindy M Grimm, Joseph J Crisco, David H Laidlaw
J. Biomech. Eng.
2006
A kinematics-based method for generating cartilage maps and deformations in the multi-articulating wrist joint from CT images
G Elisabeta Marai, Joseph J Crisco, David H Laidlaw
Engineering in Medicine and Biology Society, 2006. EMBS'06. 28th Annual International Conference of the IEEE
2018
Quantitative imaging toolkit: software for interactive 3D visualization, data exploration, and computational analysis of neuroimaging datasets
Ryan P Cabeen, David H Laidlaw, Arthur W Toga
ISMRM-ESMRMB Abstracts
2001
The SHAPE Lab: New technology and software for archaeologists
Frederic F Leymarie, David B Cooper, Martha Sharp Joukowsky, Benjamin B Kimia, David H Laidlaw, David Mumford, Eileen L Vote
BAR INTERNATIONAL SERIES
2016
Regional age differences in gray matter diffusivity among healthy older adults
Lauren E Salminen, Thomas E Conturo, David H Laidlaw, Ryan P Cabeen, Erbil Akbudak, Elizabeth M Lane, Jodi M Heaps, Jacob D Bolzenius, Laurie M Baker, Sarah Cooley, Staci Scott, Lee M Cagle, Sarah Phillips, Robert H Paul
Brain imaging and behavior
2015
In vivo recruitment patterns in the anterior oblique and dorsoradial ligaments of the first carpometacarpal joint
Eni Halilaj, Michael J Rainbow, Douglas C Moore, David H Laidlaw, Arnold-Peter C Weiss, Amy L Ladd, Joseph J Crisco
Journal of biomechanics
2014
An insight-and task-based methodology for evaluating spatiotemporal visual analytics
Steven R Gomez, Hua Guo, Caroline Ziemkiewicz, David H Laidlaw
2014 IEEE Conference on Visual Analytics Science and Technology (VAST)
2017
A Comparative evaluation of voxel-based spatial mapping in diffusion tensor imaging
Ryan P Cabeen, Mark E Bastin, David H Laidlaw
Neuroimage
2015
MAGI: visualization and collaborative annotation of genomic aberrations
Mark DM Leiserson, Connor C Gramazio, Jason Hu, Hsin-Ta Wu, David H Laidlaw, Benjamin J Raphael
Nature methods
2008
Tech-note: Dynamic dragging for input of 3D trajectories
Daniel F Keefe, Robert C Zeleznik, David H Laidlaw
2008 IEEE Symposium on 3D User Interfaces
2005
Painting and visualization.
Robert M Kirby, Daniel F Keefe, David H Laidlaw
1995
Pure phase-encoded MRI and classification of solids
Pratik Ghosh, David H Laidlaw, Kurt W Fleischer, Alan H Barr, Russell E Jacobs
IEEE transactions on medical imaging
2015
Permutation and parametric tests for effect sizes in voxel-based morphometry of gray matter volume in brain structural MRI
David A Dickie, Shadia Mikhael, Dominic E Job, Joanna M Wardlaw, David H Laidlaw, Mark E Bastin
Magnetic resonance imaging
2015
Fiber bundle length and cognition: a length-based tractography MRI study
Ashley M Behrman-Lay, Christina Usher, Thomas E Conturo, Stephen Correia, David H Laidlaw, Elizabeth M Lane, Jacob Bolzenius, Jodi M Heaps, Lauren E Salminen, Laurie M Baker, Ryan Cabeen, Erbil Akbudak, Xi Luo, Peisi Yan, Robert H Paul
Brain imaging and behavior
2000
Streamtubes and streamsurfaces for visualizing diffusion tensor MRI volume images
Song Zhang, Charles T Curry, Daniel S Morris, David H Laidlaw
Visualization'00 Work in Progress
2009
Visual integration of quantitative proteomic data, pathways, and protein interactions
Radu Jianu, Kebing Yu, Lulu Cao, Vinh Nguyen, Arthur R Salomon, David H Laidlaw
IEEE transactions on visualization and computer graphics
2003
Designer-critiqued comparison of 2D vector visualization methods: A pilot study
Cullen D Jackson, Daniel Acevedo, David H Laidlaw, Fritz Drury, Eileen Vote, Daniel Keefe
2002
Toward a framework for assembling broken pottery vessels
Stuart Andrews, David H Laidlaw
AAAI/IAAI
2005
Simulation and visualization of air flow around bat wings during flight
Igor V Pivkin, Eduardo Hueso, Rachel Weinstein, David H Laidlaw, Sharon Swartz, George E Karniadakis
International Conference on Computational Science
2014
White matter changes with age utilizing quantitative diffusion MRI
Laurie M Baker, David H Laidlaw, Thomas E Conturo, Joseph Hogan, Yi Zhao, Xi Luo, Stephen Correia, Ryan Cabeen, Elizabeth M Lane, Jodi M Heaps, Jacob Bolzenius, Lauren E Salminen, Erbil Akbudak, Amanda R McMichael, Christina Usher, Ashley Behrman, Robert H Paul
Neurology
2013
Neuronal fiber bundle lengths in healthy adult carriers of the ApoE4 allele: a quantitative tractography DTI study
Lauren E Salminen, Peter R Schofield, Elizabeth M Lane, Jodi M Heaps, Kerrie D Pierce, Ryan Cabeen, David H Laidlaw, Erbil Akbudak, Thomas E Conturo, Stephen Correia, Robert H Paul
Brain imaging and behavior
2009
Coloring 3D line fields using Boy's real projective plane immersion
Çağatay Demiralp, John F Hughes, David H Laidlaw
IEEE Transactions on Visualization and Computer Graphics
2015
A classification of user tasks in visual analysis of volume data
Bireswar Laha, Doug A Bowman, David H Laidlaw, John J Socha
2015 IEEE Scientific Visualization Conference (SciVis)
2009
A coloring solution to the edge crossing problem
Radu Jianu, Adrian Rusu, Andrew J Fabian, David H Laidlaw
2009 13th International Conference Information Visualisation
2009
Similarity coloring of DTI fiber tracts
Cagatay Demiralp, David H Laidlaw
Proceedings of DMFC Workshop at MICCAI
2002
Hierarchical clustering of streamtubes
Song Zhang, David H Laidlaw
Brown University, Providence, RI, United States
2005
Characterizing the effect of level of immersion on a 3D marking task
Jürgen Schulze, Andrew Forsberg, Alexander Kleppe, Robert C Zeleznik, David H Laidlaw
proceedings of HCI International
2001
Visualizing diffusion tensor volume differences
MJ Da Silva, Song Zhang, Cagatay Demiralp, David H Laidlaw
IEEE Visualization 01 Proceedings, Work in Progress
2017
Cognitive reserve moderates the relationship between neuropsychological performance and white matter fiber bundle length in healthy older adults
Laurie M Baker, David H Laidlaw, Ryan Cabeen, Erbil Akbudak, Thomas E Conturo, Stephen Correia, David F Tate, Jodi M Heaps-Woodruff, Matthew R Brier, Jacob Bolzenius, Lauren E Salminen, Elizabeth M Lane, Amanda R McMichael, Robert H Paul
Brain imaging and behavior
2012
Elongation of the dorsal carpal ligaments: a computational study of in vivo carpal kinematics
Michael J Rainbow, Joseph J Crisco, Douglas C Moore, Robin N Kamal, David H Laidlaw, Edward Akelman, Scott W Wolfe
The Journal of hand surgery
2008
Exploratory visualization of animal kinematics using instantaneous helical axes
Daniel F Keefe, Trevor M O'Brien, David B Baier, Stephen M Gatesy, Elizabeth L Brainerd, David H Laidlaw
Computer graphics forum
2012
New developments in the visualization and processing of tensor fields
David H Laidlaw, Anna Vilanova
2009
Virtual reality-based interactive scientific visualization environments
Joseph J LaViola, Andrew S Forsberg, David H Laidlaw, Andries Van Dam
2014
Polar histograms of curvature for quantifying skeletal joint shape and congruence
Eni Halilaj, David H Laidlaw, Douglas C Moore, Joseph J Crisco
Journal of biomechanical engineering
2013
White matter supervoxel segmentation by axial DP-means clustering
Ryan P Cabeen, David H Laidlaw
International MICCAI Workshop on Medical Computer Vision
2013
Virtual reality data visualization for team-based STEAM education: Tools, methods, and lessons learned
Daniel F Keefe, David H Laidlaw
International Conference on Virtual, Augmented and Mixed Reality
2012
Quantitative tract-of-interest metrics for white matter integrity based on diffusion tensor MRI data
David H Laidlaw, Song Zhang, Stephanie Yat-lin Lee, Stephen Correia
2010
Application of uncertainty visualization methods to meteorological trajectories
Ryan A Boller, Scott A Braun, Jadrian Miles, David H Laidlaw
Earth Science Informatics
2007
Neuropsycological and Neuroimaging Outcome of HIV-Associated Progressive Multifocal Leukoencephalopathy in the Era of Antiretroviral Therapy
Robert H Paul, David H Laidlaw, David F Tate, Stephanie Lee, Karin F Hoth, John Gunstad, Song Zhang, Jeffrey Lawrence, Tim Flanigan
Journal of integrative neuroscience
2006
Connectivity-aware sectional visualization of 3D DTI volumes using perceptual flat-torus coloring and edge rendering
Çagatay Demiralp, Song Zhang, David F Tate, Stephen Correia, David H Laidlaw
2018
Relating task demand, mental effort and task difficulty with physicians' performance during interactions with electronic health records (EHRs)
Prithima Reddy Mosaly, Lukasz M Mazur, Fei Yu, Hua Guo, Merck Derek, David H Laidlaw, Carlton Moore, Lawrence B Marks, Javed Mostafa
International Journal of Human–Computer Interaction
2015
Older asymptomatic women exhibit patterns of thumb carpometacarpal joint space narrowing that precede changes associated with early osteoarthritis
Eni Halilaj, Douglas C Moore, Tarpit K Patel, David H Laidlaw, Amy L Ladd, Arnold-Peter C Weiss, Joseph J Crisco
Journal of biomechanics
2011
VisBubbles: a workflow-driven framework for scientific data analysis of time-varying biological datasets
Guangxia Li, Andrew C Bragdon, Zhigeng Pan, Mingmin Zhang, Sharon M Swartz, David H Laidlaw, Chaoyang Zhang, Hanyu Liu, Jian Chen
2005
Using visual design expertise to characterize the effectiveness of 2d scientific visualization methods
Daniel Acevedo, Cullen Jackson, David H Laidlaw, Fritz Drury
IEEE Visualization'05
2004
DTI fiber clustering in the whole brain
Song Zhang, David H Laidlaw
2014
How do sex, age, and osteoarthritis affect cartilage thickness at the thumb carpometacarpal joint? Insights from subject-specific cartilage modeling
Eni Halilaj, David H Laidlaw, Douglas C Moore, Joseph J Crisco
2007
Interactive multiple scale small multiples
Jian Chen, Andrew S Forsberg, Sharon M Swartz, David H Laidlaw
IEEE Visualization
2000
Visualizing the differences between diffusion tensor volume images
M DaSilva, Song Zhang, Catagay Demiralp, David H Laidlaw
Proceedings of the International Society for Magnetic Resonance in Medicine Diffusion MRI Workshop
2017
Vulnerability of white matter tracts and cognition to the SOD2 polymorphism: a preliminary study of antioxidant defense genes in brain aging
Lauren E Salminen, Peter R Schofield, Kerrie D Pierce, Steven E Bruce, Michael G Griffin, David F Tate, Ryan P Cabeen, David H Laidlaw, Thomas E Conturo, Jacob D Bolzenius, Robert H Paul
Behavioural brain research
2017
Topological organization of whole-brain white matter in HIV infection
Laurie M Baker, Sarah A Cooley, Ryan P Cabeen, David H Laidlaw, John A Joska, Jacqueline Hoare, Dan J Stein, Jodi M Heaps-Woodruff, Lauren E Salminen, Robert H Paul
Brain connectivity
2016
Imaging signatures of meningioma and low-grade glioma: a diffusion tensor, magnetization transfer and quantitative longitudinal relaxation time MRI study
Rory J Piper, Shadia Mikhael, Joanna M Wardlaw, David H Laidlaw, Ian R Whittle, Mark E Bastin
Magnetic resonance imaging
2013
What Google Maps can do for biomedical data dissemination: examples and a design study
Radu Jianu, David H Laidlaw
BMC research notes
2008
Haptics-assisted 3D lasso drawing for tracts-of-interest selection in DTI visualization
Wenjin Zhou, Stephen Correia, David H Laidlaw
IEEE Visualization
2017
Neuroimaging abnormalities in clade C HIV are independent of Tat genetic diversity
Robert H Paul, Sarah Phillips, Jacqueline Hoare, David H Laidlaw, Ryan Cabeen, Gayla R Olbricht, Yuqing Su, Dan J Stein, Susan Engelbrecht, Soraya Seedat, Lauren E Salminen, Laurie M Baker, Jodi Heaps, John Joska
Journal of neurovirology
2013
Estimating constrained multi-fiber diffusion MR volumes by orientation clustering
Ryan P Cabeen, Mark E Bastin, David H Laidlaw
International Conference on Medical Image Computing and Computer-Assisted Intervention
2012
Effects of illumination, texture, and motion on task performance in 3D tensor-field streamtube visualizations
Devon Penney, Jian Chen, David H Laidlaw
2012 IEEE Pacific Visualization Symposium
2019
Predicting carpal bone kinematics using an expanded digital database of wrist carpal bone anatomy and kinematics
Bardiya Akhbari, Douglas C Moore, David H Laidlaw, Arnold‐Peter C Weiss, Edward Akelman, Scott W Wolfe, Joseph J Crisco
Journal of Orthopaedic Research®
2019
Developing virtual reality visualizations for unsteady flow analysis of dinosaur track formation using scientific sketching
Johannes Novotny, Joshua Tveite, Morgan L Turner, Stephen Gatesy, Fritz Drury, Peter Falkingham, David H Laidlaw
IEEE transactions on visualization and computer graphics
2016
Fauxvea: Crowdsourcing gaze location estimates for visualization analysis tasks
Steven R Gomez, Radu Jianu, Ryan Cabeen, Hua Guo, David H Laidlaw
IEEE transactions on visualization and computer graphics
2016
Neuromarkers of the common angiotensinogen polymorphism in healthy older adults: A comprehensive assessment of white matter integrity and cognition
Lauren E Salminen, Peter R Schofield, Kerrie D Pierce, Yi Zhao, Xi Luo, Youdan Wang, David H Laidlaw, Ryan P Cabeen, Thomas E Conturo, David F Tate, Erbil Akbudak, Elizabeth M Lane, Jodi M Heaps, Jacob D Bolzenius, Laurie M Baker, Lee M Cagle, Robert H Paul
Behavioural brain research
2014
Thumb carpometacarpal joint congruence during functional tasks and thumb range-of-motion activities
Eni Halilaj, Douglas C Moore, Tarpit K Patel, David H Laidlaw, Amy L Ladd, Arnold-Peter C Weiss, Joseph J Crisco
2014 36th Annual International Conference of the IEEE Engineering in Medicine and Biology Society
2011
Generalizing Diffusion Tensor Model Using Probabilistic Inference in Markov Random Fields
Cagatay Demiralp, David H Laidlaw
Proc. Intl. Soc. Mag. Reson. Med
2007
Visualizing spatial relations between 3D-DTI integral curves using texture patterns
Doria Jianu, Wenjin Zhou, C Demiralp, David H Laidlaw
Proceedings of IEEE Visualization Poster Compendium
2004
Visualization of topological defects in nematic liquid crystals using streamtubes, streamsurfaces and ellipsoids
Vadim A Slavin, David H Laidlaw, Robert Pelcovits, Song Zhang, George Loriot, Andrew Callan-Jones
IEEE Visualization 2004
2004
Color rapid prototyping for diffusion-tensor mri visualization
Daniel Acevedo, Song Zhang, David H Laidlaw, Christopher W Bull
International Conference on Medical Image Computing and Computer-Assisted Intervention
1999
Visualization needs more visual design!
J Edward Swan II, Theresa-Marie Rhyne, David H Laidlaw, Tamara Munzner, Victoria Interrante
IEEE Visualization
1994
Classification of material mixtures in volume data for visualization and modeling
David H Laidlaw, Kurt W Fleischer, Alan H Barr
2018
Topic-based exploration and embedded visualizations for research idea generation
Hua Guo, David H Laidlaw
IEEE transactions on visualization and computer graphics
2006
Visualization and interpretation of the proper orthogonal decomposition of bat wing kinematics
Igor V Pivkin, Sharon Swartz, David H Laidlaw
Master's project, Brown University, CS Dept
2004
Visualization of Vortices in Simulated Airflow around Bat Wings During Flight.
Eduardo Hueso, Igor Pivkin, Sharon Swartz, David H Laidlaw, George E Karniadakis, Kenny Breuer
IEEE Visualization
2003
Using CavePainting to create scientific visualizations
David B Karelitz, Daniel F Keefe, David H Laidlaw
Proc. 14th IEEE Visualization Conf.(VIS'03)
2000
Partial volume segmentation with voxel histograms
David H Laidlaw, Kurt W Fleischer, Alan H Barr
1999
Evaluating effects of diffusion weighting choice on accuracy of diffusion tensor MRI of fixed mouse spinal cord
David H Laidlaw, Kristen L Cook, Yuri M Goldfeld
Proceedings of the 7th Annual Meeting of ISMRM, Philadelphia
1998
Visually representing multi-valued scientific data using concepts from painting
David H Laidlaw, David Kremers, Eric T Ahrens, Matthew J Avalos
2020
A survey of variables used in empirical studies for visualization
Alfie Abdul-Rahman, Min Chen, David H Laidlaw
2018
Preliminary mapping of the structural effects of age in pediatric bipolar disorder with multimodal MR imaging
Ryan P Cabeen, David H Laidlaw, Amanda Ruggieri, Daniel P Dickstein
Psychiatry Research: Neuroimaging
2011
HumMod explorer: a multi-scale time-varying human modeling navigator
Liming Xu, Jeremy Lyle, Yubao Wu, Zhigeng Pan, Mingmin Zhang, David H Laidlaw, Robert L Hester, Jian Chen
2007
Arthrodial joint markerless cross-parameterization and biomechanical visualization
G Elisabeta Marai, Cindy M Grimm, David H Laidlaw
IEEE transactions on visualization and computer graphics
2006
Blood flow at arterial branches: complexities to resolve for the angioplasty suite
PD Richardson, IV Pivkin, George E Karniadakis, David H Laidlaw
International Conference on Computational Science
2005
A haptic interface for creating smooth 3D curves with varying line weight
Daniel F Keefe, David H Laidlaw
2004
Panel 4: What Should We Teach in a Scientific Visualization Class?
Jon D Genetti, Michael J Bailey, David H Laidlaw, Robert J Moorhead, Ross T Whitaker
IEEE Visualization 2004
1992
Material classification of magnetic resonance volume data
David H Laidlaw
2012
Exploring brain connectivity with two-dimensional maps
Çağatay Demiralp, Radu Jianu, David H Laidlaw
2010
A fiducial-based tangible user interface for white matter tractography
Steven R Gomez, Radu Jianu, David H Laidlaw
International Symposium on Visual Computing
2010
Visualizing and exploring tractograms via two-dimensional connectivity maps
Radu Jianu, Cagatay Demiralp, David H Laidlaw
Proceedings of ISMRM
2002
Improving the visualisation of polarimetric response in SAR imagery from pixels to images
Iain H Woodhouse, Dean Turner, David H Laidlaw
IEEE International Geoscience and Remote Sensing Symposium
2001
Modeling and visualization of inter-bone distances in joints
Cagatay Demiralp, G Elisabeta Marai, Stuart Andrews, David H Laidlaw, Joseph J Crisco, Cindy Grimm
Visualization'01 Work in Progress Proceedings
1999
Investigating White Matter Diffusion Anisotropy Using the Dysmelinating Shiverer Mutant Mouse
Eric T Ahrens, David H Laidlaw, Carol Readhead, Scott E Fraser, RE Jacobs
Proceedings of the International Society for Magnetic Resonance in Medicine Seventh Scientific Meeting and Exhibition
2019
Measuring the effects of scalar and spherical colormaps on ensembles of dmri tubes
Jian Chen, Guohao Zhang, Wesley Chiou, David H Laidlaw, Alexander P Auchus
IEEE transactions on visualization and computer graphics
2015
Genetic markers of cholesterol transport and gray matter diffusion: a preliminary study of the CETP I405V polymorphism
Lauren E Salminen, Peter R Schofield, Kerrie D Pierce, Xi Luo, Yi Zhao, David H Laidlaw, Ryan P Cabeen, Thomas E Conturo, Elizabeth M Lane, Jodi M Heaps, Jacob D Bolzenius, Laurie M Baker, Sarah A Cooley, Staci Scott, Lee M Cagle, Robert H Paul
Journal of Neural Transmission
2010
Visualizing gene co-expression as google maps
Radu Jianu, David H Laidlaw
International Symposium on Visual Computing
2007
Modeling perceptual dominance among visual cues in multilayered icon-based scientific visualizations
Daniel Acevedo, Jian Chen, David H Laidlaw
IEEE Visualization Posters
2006
Sampling DTI fibers in the human brain based on DWI forward modeling
Song Zhang, David H Laidlaw
2006 International Conference of the IEEE Engineering in Medicine and Biology Society
2020
Open challenges in empirical visualization research
Caroline Ziemkiewicz, Min Chen, David H Laidlaw, Bernhard Preim, Daniel Weiskopf
2018
White matter fiber bundle lengths are shorter in cART naive HIV: an analysis of quantitative diffusion tractography in South Africa
Jodi M Heaps-Woodruff, John Joska, Ryan Cabeen, Laurie M Baker, Lauren E Salminen, Jacqueline Hoare, David H Laidlaw, Rachel Wamser-Nanney, Chun-Zi Peng, Susan Engelbrecht, Soraya Seedat, Dan J Stein, Robert H Paul
Brain imaging and behavior
2016
Application of a novel quantitative tractography-based analysis of diffusion tensor imaging to examine fiber bundle length in human cerebral white matter
Laurie M Baker, Ryan P Cabeen, Sarah Cooley, David H Laidlaw, Robert H Paul
2015
An evaluation of three methods for visualizing uncertainty in architecture and archaeology
Scott Houde, Sheila Bonde, David H Laidlaw
2015 IEEE Scientific Visualization Conference (SciVis)
2014
Bilateral filtering of multiple fiber orientations in diffusion MRI
Ryan P Cabeen, David H Laidlaw
2013
Visualization to facilitate structured exploration of published findings in rat brain connectivity
Hua Guo, Steven R Gomez, Mark J Schnitzer, David H Laidlaw
Poster Proc. IEEE Vis. Conf
2012
InShape: In-situ shape-based interactive multiple-view exploration of diffusion MRI visualizations
Haipeng Cai, Jian Chen, Alexander P Auchus, Stephen Correia, David H Laidlaw
International Symposium on Visual Computing
2012
Predicting DTI Tractography Uncertainty from Diffusion-Weighted-Image Noise
Jadrian Miles, David H Laidlaw
ISMRM 20th Annual Meeting & Exhibition
2010
Tract-based probability densities of diffusivity measures in DT-MRI
Çağatay Demiralp, David H Laidlaw
International Conference on Medical Image Computing and Computer-Assisted Intervention
2009
Development of a kinematic 3D carpal model to analyze in vivo soft-tissue interaction across multiple static postures
G Elisabeta Marai, Joseph J Crisco, David H Laidlaw
2009 Annual International Conference of the IEEE Engineering in Medicine and Biology Society
2008
A case study in using gestures and bimanual interaction to extend a high-DOF input device
Trevor M O'Brien, Daniel F Keefe, David H Laidlaw
2007
The effect of using large, high-resolution stereoscopic displays for flow visualization
Jian Chen, Andrew Forsberg, Mykhaylo Kostandov, David Willis, David H Laidlaw
2006
Perceptual coloring and 2d sketching for segmentation of neural pathways
Wenjin Zhou, Peter G Sibley, Song Zhang, David F Tate, David H Laidlaw
2006
Papers of the IEEE Visualization Conference 2006-Session 17-Vector/Tensor Visualization II-Techniques for the Visualization of Topological Defect Behavior in Nematic Liquid …
Vadim A Pelcovits, Robert A Slavin, George Callan-Jones, Andrew Loriot, David H Laidlaw
IEEE Transactions on Visualization and Computer Graphics
2006
Quantitative Tract-of-Interest Metrics for White-Matter Integrity Based on Diffusion Tensor MRI Data
Stephanie Lee, Stephen Correia, David Tate, Robert Paul, Song Zhang, Steven Salloway, Paul Malloy, David H Laidlaw
Proceedings International Society for Magnetic Resonance in Medicine (ISMRM)
2003
Design-by-example: A schema for designing visualizations using examples from art
Eileen Vote, Daniel Acevedo, Cullen D Jackson, Jason Sobel, David H Laidlaw
2002
Application of DTI visualization and analysis on a data set from a brain tumor patient
Song Zhang, David H Laidlaw, Mark E Bastin, Saurabh Sinha, Thomas S Deisboeck
Proceedings of IEEE Visualization'02
2020
Visualization of 3D stress tensor fields using superquadric glyphs on displacement streamlines
Mohak Patel, David H Laidlaw
IEEE transactions on visualization and computer graphics
2020
Empirical evaluations with domain experts
Krešimir Matković, Thomas Wischgoll, David H Laidlaw
2016
Designing capsule, an input device to support the manipulation of biological datasets
Wallace S Lages, Gustavo A Arango, David H Laidlaw, John J Socha, Doug A Bowman
2016 IEEE Symposium on 3D User Interfaces (3DUI)
2013
Composing dti visualizations with end-user programming
Haipeng Cai, Jian Chen, Alexander P Auchus, David H Laidlaw
arXiv preprint arXiv:1310.2923
2013
Toward a visual interface for brain connectivity analysis
Hua Guo, Arthur Yidi, Steven R Gomez, Mark J Schnitzer, David Badre, David H Laidlaw
2012
Incorporating GOMS analysis into the design of an EEG data visual analysis tool
Hua Guo, Diem Tran, David H Laidlaw
2012 IEEE Conference on Visual Analytics Science and Technology (VAST)
2011
InBox: In-situ multiple-selection and multiple-view exploration of diffusion tensor MRI visualization
Haipeng Cai, Jian Chen, Alexander P Auchus, Stephen Correia, David H Laidlaw
IEEE Symposium on Biological Data Visualization
2009
Tensor visualization and defect detection for nematic liquid crystals using shape characteristics
TJ Jankun-Kelly, Song Zhang, AC Callan-Jones, Robert A Pelcovits, VA Slavin, David H Laidlaw
2006
Proper orthogonal decomposition and particle image velocimetry in bat flight
Mykhaylo Kostandov, Igor V Pivkin, Kenneth S Breuer, Sharon M Swartz, David H Laidlaw
IEEE Visualization Poster Compendium
2004
Simulation and visualization of flow around bat wings during flight
Rachel Weinstein, Eduardo Hueso, Igor Pivkin, Sharon Swartz, David H Laidlaw, G Karniadakis, Kenneth Breuer
2003
A 3D method for segmenting and registering carpal bones from CT volume images
Georgeta E Marai, David H Laidlaw, James J Coburn, Mohammad A Upal, Joseph J Crisco
Proceedings of Annual Meeting of the American Society of Biomechanics
2002
Particle flurries: a case study of synoptic 3d pulsatile flow visualization
Jason Sobel, Andrew Forsberg, David H Laidlaw, Robert Zeleznik, Daniel Keefe, Igor Pivkin, George Karniadakis, Peter Richardson
unpublished (pdf)(bibtex: Sobel-2002-PFC)
2018
Towards placental surface vasculature exploration in virtual reality
Johannes Novotny, Wesley R Miller, François I Luks, Derek Merck, Scott Collins, David H Laidlaw
IEEE computer graphics and applications
2011
Modeling Human Performance from Visualization Interaction Histories
Steven R Gomez, David H Laidlaw
Proceedings of IEEE InfoVis (Posters). IEEE
2011
Measuring seeding resolution dependence of diffusion tensor streamtube visualization
Haipeng Cai, Jian Chen, Alexander P Auchus, Juebin Huang, David H Laidlaw
IEEE Visualization Poster Compendium
2010
Toward a machine learning approach for classifying user goals from user interactions
Trevor M O'Brien, David H Laidlaw
2009
Bookstein coordinate-based shape analysis of bat wing kinematics
Jian Chen, Daniel K Riskin, Kenneth S Breuer, Sharon M Swartz, David H Laidlaw
Integrative and Comparative Biology
2008
Exploring dimensionality reduction of animal flight kinematics in an interactive virtual reality setting
Mykhaylo Kostandov, Jian Chen, Igor V Pivkin, Sharon M Swartz, David H Laidlaw
2007
Teaching Science in Virtual Reality with a Freehand 3D Illustration
Jadrian Miles, Daniel F Keefe, Daniel Acevedo, Fritz Drury, Sharon M Swartz, David H Laidlaw
Proceedings of IEEE InfoVis
2005
Strategy for detecting neuronal fibers at risk for neurodegeneration in earliest MS by streamtube tractography at 3T
Jack H Simon, Song Zhang, David H Laidlaw, DE Miller, M Brown, J Corboy, D Singel, J Bennett
Proceedings of ISMRM, Miami, FL
2004
JointViewer-An Interactive System for Exploring Orthopedic Data.
G Elisabeta Marai, Cagatay Demiralp, Stuart Andrews, David H Laidlaw
IEEE Visualization
2004
Towards a global tractography-based model of FA
Song Zhang, David H Laidlaw
Workshop on aging connections: Advanded MRI of age related white matter changes in the brain. ISMRM
2002
Computational Visualization and Analysis of Structural Heterogeneity in a Diffusion Tensor MR-Imaging Data Set from a Brain Tumor Patient
Song Zhang, David H Laidlaw, Mark E Bastin, Saurabh Sinha, Thomas S Deisboeck
2002
A synoptic visualisation of fully polarimetric SAR data-an annotated example icon
Dean Turner, Iain H Woodhouse, David H Laidlaw
Geoscience and Remote Sensing Symposium, 2002. IGARSS'02. 2002 IEEE International
1997
Goal-Directed Magnetic Resonance Brain Microimaging
David H Laidlaw, Alan H Barr, Russell E Jacobs
Neuroinformatics: An Overview of the Human Brain Project
Ramifications of Isotropic Sampling and Acquisition Orientation on DTI Analyses
David H Laidlaw, Song Zhang, ME Bastin, Stephen Correia, Stephen Salloway, Paul Malloy
Scientific Meeting and Exhibition
2021
Tractography Processing with the Sparse Closest Point Transform
Ryan P Cabeen, Arthur W Toga, David H Laidlaw
Neuroinformatics
2020
The Huge Variable Space in Empirical Studies for Visualization--A Challenge as well as an opportunity for Visualization Psychology
Min Chen, Alfie Abdul-Rahman, David H Laidlaw
arXiv preprint arXiv:2009.13194
2020
Stick Stippling for Joint 3D Visualization of Diffusion MRI Fiber Orientations and Density
Ryan P Cabeen, David H Laidlaw, Arthur W Toga
bioRxiv
2020
Merging biplanar X-ray, 3-D animation, particle simulation, and virtual reality to understand 3-D foot dynamics on deformable substrates
Kevin G Hatala, Peter L Falkingham, Sabreen Megherhi, David A Perry, Spencer Cheleden, Johannes Novotny, David H Laidlaw, Stephen M Gatesy
American journal of physical anthropology
2019
Behavioral inhibition corresponds to white matter fiber bundle integrity in older adults
Paola M Garcia-Egan, Rebecca N Preston-Campbell, Lauren E Salminen, Jodi M Heaps-Woodruff, Lila Balla, Ryan P Cabeen, David H Laidlaw, Thomas E Conturo, Robert H Paul
Brain imaging and behavior
2016
Effects of field of regard and stereoscopy and the validity of MR simulation for visual analysis of scientific data
Wallace S Lages, Bireswar Laha, Wesley Miller, Johannes Novotny, David H Laidlaw, John J Socha, Doug A Bowman
2016 IEEE Virtual Reality (VR)
2014
Gryphon: A 'Little'Domain-Specific Programming Language for Diffusion MRI Visualizations
Jian Chen, Haipeng Cai, Alexander P Auchus, David H Laidlaw
2010
Exploration of bat wing morphology through a strip method and visualization
Jian Chen, Daniel K Riskin, Tatjana Y Hubel, David Willis, Arnold Song, Hanyu Liu, Kenneth Breuer, Sharon M Swartz, David H Laidlaw
2010
Guest Editors' Introduction: Special Section on Volume Graphics and Point-Based Graphics
Hans-Christian Hege, David H Laidlaw, Raghu Machiraju
IEEE transactions on visualization and computer graphics
2010
A Quantitative Tractography Approach for Exploring Associations Between White Matter Pathways and Cognitive Functions
Eni Halilaj, Stephen Correia, David H Laidlaw, Stephen Salloway
Proc. Intl. Soc. Mag. Reson. Med
2009
The design and evaluation of a lightweight multi-view interaction metaphor for 3D visualization in the CAVE
Andrew Bragdon, David H Laidlaw
2009
Partial Volume Segmentation and Boundary Distance Estimation with Voxel Histograms
David H Laidlaw, G Elisabeta Marai, Kurt W Fleischer, Alan H Barr
2009
Visual Analysis of Dimensionality Reduction in an Interactive Virtual Environment for Exploring Bat Flight Kinematics
Jian Chen, Mykhaylo Kostandov, Igor V Pivkin, Daniel K Riskin, David J Willis, Sharon M Swartz, David H Laidlaw
2009
Corrigendum to "Quantitative tractography metrics of white matter integrity in diffusion-tensor MRI"[NeuroImage 42 (2008) 568–581]
Stephen Correia, Stephanie Y Lee, Thom Voorn, David F Tate, Robert H Paul, Song Zhang, Stephen P Salloway, Paul F Malloy, David H Laidlaw
NeuroImage
2009
09302 Abstracts Collection--New Developments in the Visualization and Processing of Tensor Fields
Bernhard Burgeth, David H Laidlaw
Dagstuhl Seminar Proceedings
2009
09302 Summary--New Developments in the Visualization and Processing of Tensor Fields
Bernhard Burgeth, David H Laidlaw
Dagstuhl Seminar Proceedings
2008
A slicing-based coherence measure for clusters of DTI integral curves
Çağatay Demiralp, Gregory Shakhnarovich, Song Zhang, David H Laidlaw
International Conference on Medical Image Computing and Computer-Assisted Intervention
2008
Interactive Demo: Two-handed Visualization: Bimanual Interaction Techniques for Exploring Time-Varying 3D Data
Trevor M O'Brien, Daniel F Keefe, David H Laidlaw
IEEE Visualization 2008
2007
Slicing-based coherence measure for refining clusters of 3D curves
Cagatay Demiralp, Gregory Shakhnarovich, Song Zhang, David H Laidlaw
2007
Connectivity-aware sectional visualization of DTI volumes
Cagatay Demiralp, Daniel Acevedo, Song Zhang, David F Tate, Stephen Correia, David H Laidlaw
2007
Interactively mitigating visual confusion by using a visual mixing board
Chipalo Street, David H Laidlaw
2006
Scientific Sketching: An Experimentally Refined Methodology for Designing VR Visualizations with Artists
Daniel F Keefe, Daniel Acevedo, Jadrian Miles, Fritz Drury, Sharon M Swartz, David H Laidlaw
IEEE TRANSACTIONS ON VISUALIZATION AND COMPUTER GRAPHICS
2006
P2-270: Diffusion-tensor imaging tractography: Correlation with processing speed in aging
Stephen Correia, Stephanie Y Lee, Song Zhang, Stephen P Salloway, Paul F Malloy, David H Laidlaw
Alzheimer's & Dementia
2006
De-aliasing Undersampled Volume Images for Visualization
Galen G Gornowicz, David H Laidlaw, Jerry W Shan, Daniel B Lang, Paul E Dimotakis
2006
IC-P-083
Stephen Correia, Stephanie Y Lee, Song Zhang, Stephen P Salloway, Paul F Malloy, David H Laidlaw
Alzheimer's & Dementia: The Journal of the Alzheimer's Association
2004
Robust Automated Registration of Wrist Bones Using Tissue Classification and Distance Fields
G Elisabeta Marai,